Fencing for dogs is a key factor, when you create a colourful garden full of plants and flowers. Does your dog undo all your hard work by digging unsightly holes?
If you value a beautiful garden, this can be a frustrating problem. Fortunately, there are simple steps you can take that will usually stop a digging dog, once you understand why your dog digs in the first place.
Dogs can dig holes in the garden for a variety of reasons.
Some types of dogs seem to have an inherent tendency to dig. One such breed is the Terrier family of dogs. The tendency to dig is almost innate to the Terrier since they were bred to hunt animals buried in burrows. If you're dealing with a digging Terrier, you have a bit more off a challenge than you would with other dog breeds. Fencing for these dogs to keep them contained can prove to be a challenge. Other reasons dogs dig are to create a cool spot to lie down in on a hot summer day, to escape underneath a fence, and digging to stay entertained and stimulated.
To stop a digging dog, first try to determine why the behaviour is occurring.
Digging in an attempt to escape your fencing?
If this is happening when you're away from home, he could be suffering from separation anxiety and is attempting to get under the fence to find you. This type of situation is most easily resolved by bringing your dog inside when you go out and leaving him in a secure area with soft, relaxing music or a T.V. playing in the background.
If your dog's anxiety causes him to be destructive indoors when you leave, consider securing him in a cage. Contrary to what you might think, many dogs actually enjoy the security of a comfortable, well padded cage when kept there for short periods of time.
A male dog may also dig under a fence when he detects the scent of a female in heat. Having your pet neutered may reduce this motivation for digging. You may also want to reinforce the boundaries of the fence at the base using chicken wire.
Is your dog digging because he's trying to get cool?
Make sure your dog has a cool shelter located in a shady area where he can escape the heat along with plenty of water. You may also want to consider adding a wading pool filled with shallow water for your dog to use for cooling. Choose a heavy duty plastic one as a dog can puncture an inflatable one with their toenails.
You may also want to have your dog's hair cut shorter during the summer months and tie a special cooling bandanna around his neck. These are available online.
Is your dog fence digging out of boredom?
To stop a bored dog from digging, make sure he has plenty of daily exercise and mental stimulation when he's alone in the garden. Provide him with safe toys that aren't likely to cause choking. A summertime wading pool can be a pleasant and cool diversion that will keep your dog from creating havoc with his paws.
Taking your dog for a brisk thirty minute walk can dissipate some of his excess energy that might otherwise be channelled into digging.
If these strategies don't work, try using a water gun to spray your dog on the head when you notice him digging. If you do this several times, you'll probably extinguish the behaviour. The trick is to catch your dog in the act and have the water gun ready to work its magic. Never punish a dog after the fact as this is only counterproductive.
With a little patience, you can stop a digging dog and restore your garden to its former state of tranquillity. When your digging pooch is trying to escape the garden, a great solution is to install a pet containment system, this is the perfect solution when choosing fencing for dogs.
https://www.dogfence.co.uk/wp-content/uploads/2015/10/dogfences_logo_main_cats_orange2.png
0
0
Sam Chapman
https://www.dogfence.co.uk/wp-content/uploads/2015/10/dogfences_logo_main_cats_orange2.png
Sam Chapman
2019-06-06 08:32:35
2019-06-27 05:45:17
Fencing For Dogs - Digging Dogs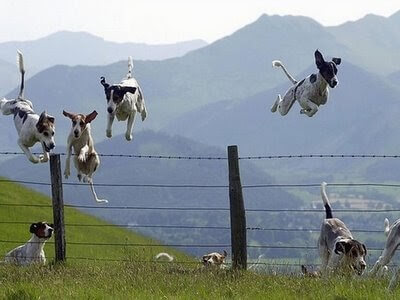 A good fence will keep your dog inside your garden and other dogs (and other dangers) out of your garden. Unfortunately, many dogs look at a fence as a challenge to surmount. They want to dig under it, go through it, or climb over it.
Since the point of a fence is not to create a puzzle for your dog to solve! Let's look at some ways to keep your dog inside your fence:
Remove Aids to Escape
It is amazing what dogs can use to their benefit when trying to escape from the garden.
A bin can stored next to the fence becomes a climbing aid; a step stool.
Firewood piled next to a fence does the same thing; it's easy to climb up on firewood then hop or climb the fence.
A tree with a low limb hanging over the fence is also an avenue to escape.
Walk around your garden and look at everything from your dog's point of view.  Then remove all of those climbing aids.
Stop Fence Tunnellers
Dogs who dig under a fence to escape can be persistent. Filling in each hole, won't stop a dog from digging and can be frustrating as a never ending chore. Therefore a more permanent solution works better.
The best solution is to create a L-footer along the base of the fence. Take a roll of heavy garden fence or hardware cloth (wire fencing with wire squares) and unroll it alongside your fence. Bend the fencing so a foot of it can be attached to your fence and the remainder will lie flat on the ground at the base of the fence extending into your garden.
The name, L-fence, describes the L shape of the fencing once it's shaped. The base of the L can be staked to the ground, covered with dirt, gravel, rocks, or just let the grass grow up through it. If you let the grass grow, remember it and don't mow over it; cut it using other, safer means.
Stop Fence Jumpers
If your dog likes to jump the fence, create a L-footer but turn it upside down so it's at the top of your fence. Create that L-shape and fasten the short side to the top of your fence with the rest of the garden or hardware fencing angled into your garden at the top of the fence so when your dog looks up, fencing is above.
You'll need to use some ingenuity to anchor this fencing though. You can use some wood to create supports anchored to the top of your fence.  These will support the folded over garden fence or large angle irons or even metal shelf supports. Take a look at your fence and use your imagination.
Of course, we have to give our pooches credit for the clever ways they can escape and once they find a way out they will use it again and again if not blocked.
There is one surefire way to effectively contain your dog, which is also aesthetically pleasing with or without a static boundary fence and that is through the use of a wireless dog fence system, read more about the Dog Fence system or get in touch with us to discuss your needs.
https://dogfence.co.uk/wp-content/uploads/2017/12/escaping-dog.jpg
300
400
Sam Chapman
https://www.dogfence.co.uk/wp-content/uploads/2015/10/dogfences_logo_main_cats_orange2.png
Sam Chapman
2019-05-28 13:54:56
2019-10-15 10:21:06
Dogs and Fences - Do They Go Together?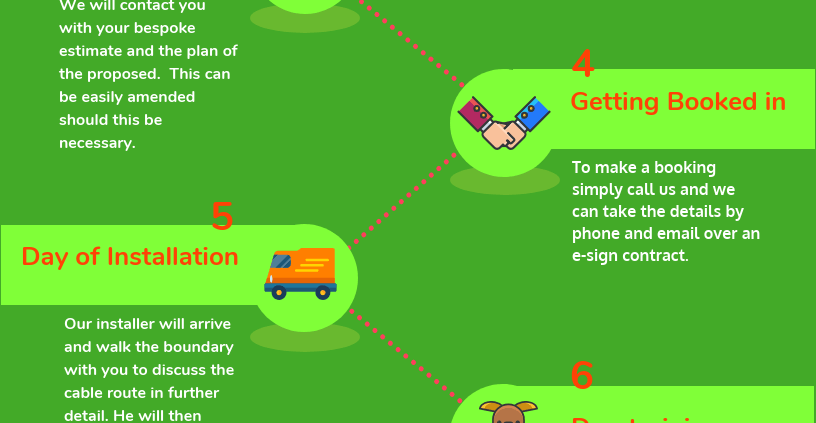 What You Need to Know About our Electronic Dog Fence: FAQ for New Customers
By: DogFence on 14-05-19
So you found our electronic dog fence online and made an enquiry. We don't need to visit your property to give you an estimate. Using our online mapping tool, similar to google earth, we can locate your property and measure out your boundary. Our office team will usually try to contact you as well to chat through your questions and discuss any areas of the property that might need extra attention.
Booking a dog fence installation
Booking your dog fence installation is simple. Our team will have sent over an estimate with the proposed boundary image. They will have also discussed the different systems with you, Pro Fence 1200, Performance Series and Smart Fence. Once you have agreed on a date and the system they will take some further information about your dog. A deposit is paid to secure the dog fence installation date and a confirmation of the booking will be sent over. Our office team and Dog Fence Installers are here for every step of the journey to answer your questions regarding our electronic dog fences and support you as you transition to giving your pet a happier, safer life.
Dog fence day
As a general rule, we commence the dog fence Installation will commence circa 07.30am! Interestingly this is to avoid rush-hour traffic and maximize daylight during the winter months. Our Installer will walk the boundary with your to fine-tune the electronic dog fence route. Once this has been agreed we should not need your attention again until we commence the dog fence training.
Our unique trenching equipment will bury the cable directly into the ground. We endeavour to bury boundary cables but if the terrain or an area is not suitable we can install cable above ground. Of course, the installation duration will vary depending on the size and the terrain but as a general rule, we will be ready to train your dog in the afternoon.
Electronic dog fence training
Now for the magic! We will not hook your dog up to the mains, we will not hurt your dog, we will train your dog using a recognised protocol. Actually, the training is very subtle and for some dogs, the scariest part is the temporary training flags. These little "flag" aliens can be quite scary to some dogs and others will play or stalk them. As with people, all dogs are different as we will treat them as individuals.  The flags are a vital part of the training and will give the dog a visual for the electronic dog fence boundary.
Don't worry! Your Installer will look after your pet, he will involve you in the training and you will be amazed at how quick and simple the training is. All our Installers are trained to offer the full Dog Fence Installation & Training program. They will find the level suitable for your pet and work to ensure that he or she understands the fence.
Hopefully, he will answer all your questions but if you forget anything or you have a query you can call the office after the installation. The notes from the day will be electronically uploaded so we can access the training info and answer your questions.
Does the electronic dog fence come with a guarantee?
Absolutely! DogFence offers the most comprehensive guarantee worldwide. Our lifetime hardware warranty covers the transmitter & computer collar for life and even extends to dog chews. But more importantly, we offer a Containment Promise on professionally installed, outdoor systems.
Should your system break down for any reason you can also schedule a service appointment and one of our engineers will test or repair your entire fence or train any new pets that you may have acquired.
Is there any ongoing maintenance for the fence?
Naturally, it is important to check the fence from time to time. At DogFence we recommend testing the electronic fence monthly. This would include checking the battery and collar fit and takes less than 5 minutes. The electronic dog fence collars will alert you when you require a battery. After the dog fence installation, you will be invited to sign up to our battery program. If you decide to purchase batteries on an ad-hoc basis that's fine.  But it is important to remember that when the battery runs out the pet can run out! Other than the battery and checking the collar fit there is no ongoing maintenance required.
How often do I replace the battery in my dog's Computer Collar?
Of course, we all lead busy lives but once you see the red flashing light on your electronic dog fence collar you need to take action. The schedule for the battery changes is as follows:
R12m & R7m (mini) collars – every 6 months
R12 & R9 (standard collars – every 18 – 24 months
The green status light will change from a steady flash every forty seconds to a rapid flash every 10 seconds. At this point, you have approx 2 weeks to change the battery.
Where can I buy Batteries?
DogFence offers a few different options for customers to replace batteries.
How often should I remove the electronic collar?
VVIP – the collar needs to be removed every day! Leaving the collar on the dog can cause a skin irritation. We strongly recommend that you remove the collar for a minimum of 6 hours every day but we recommend 8 hours. On the day of the dog fence installation, you will be given all this information again together with a continuation sheet to assist you in the early days' post installation.
If you would like to know more about our electronic dog fence please call us. We can chat to you and pop together an estimate for the dog fence installation – 03450 623623 or info@dogfence.co.uk.
https://dogfence.co.uk/wp-content/uploads/2019/05/dog-fence-installation-timeline.png
1830
816
Sam Chapman
https://www.dogfence.co.uk/wp-content/uploads/2015/10/dogfences_logo_main_cats_orange2.png
Sam Chapman
2019-05-14 12:45:01
2019-08-28 13:27:25
Electronic dog fence - FAQ's for new customers