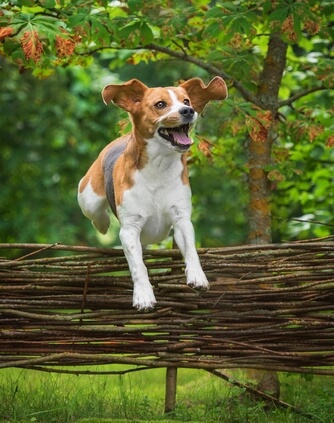 Affordable dog fencing
When it comes to affordable dog fencing there aren't many options as fencing is actually quite expensive.  As with everything you get what you pay for and it depends on whether you want to get your hands dirty. Naturally, these fencing options are based on how large an area you need to fence. The landscape that you need to fence. And also the breed of the dog that requires the dog fencing!
Dog fencing for small areas
If you are looking to fence a small back garden then it is likely that you already have a fence or wall but it isn't meeting your needs. Watch your dog and see if he is using something to climb up and scrabble over or is he climbing or digging. Consider installing trellis above your fence. This can be bought from any good DIY store and is relatively quick to install. If you have a digger add a concrete footer below your fence by pouring concrete along the edge of the fence and sinking the bottom of the fence into the concrete before it dries.  This is naturally a labour intensive job but should do the trick!
If you are not sure where he is getting out then one of our DIY dog fences is going to be the cheapest way forward. These fences are under £250.00 and will cover a small urban garden. If you compare the price of re-fencing a complete rear garden versus adding an electronic dog fence the dog fence will win on price all day long!
For small gardens with low fences, you may be able to upgrade your fence to a close board fence. These fences start at around £38.00 per metre fully installed. You will need to check that you can install a fence of this height before ripping out the old fence.
Rural gardens and small paddocks
It goes without saying that dog fencing for rural areas can be a headache. Not only are you trying to stop your dog going out but the local wildlife is busy pushing its way in. If you have an issue with rabbits and small dogs then this could be a good option for you but it is not the cheapest! Rabbit fencing starts at approx £130.00 per 50m without installation! If you are covering a 1-acre site this will cost in the region of £690.00 just for the galvanised mesh without any posts of labour. Also unless it is extremely well-installed rabbit fencing can be damaged by larger mammals such as Badgers, Muntjack and larger Deer.
If you have hedges or areas with no existing fences then the cheapest form of fencing will be either a stock fence or an electronic dog fence. If you have horses or livestock then you will need to look at stock fencing options. Of course, if it is only a dog or a cat that needs containing then an electronic dog fence is by far the cheapest option.
Our DIY dog fence can be expanded up to an acre for an additional £100.00 and a Professionally Installed dog fence will cost in the region of £1000.00 depending on the location and number of dogs. This would work out more cost-effective than the galvanized or stock fencing and would also protect the driveways. Installing gates can also be very costly and of course, this relies on people shutting the gate when they come or go! Our Professionally installed fences have a lifetime warranty on the hardware and a containment promise for the dog.
Large estates and difficult terrains
If it aesthetics then Estate fencing is most certainly the winner but you will need deep pockets to install this timeless classic! At around £80.00 per 2m panel + installation, it will very soon add up, especially on the large country estate! Again, you will need to think about gates and this type of fencing is not dog secure. Other popular types of fencing are post and rail with stock fencing below or chain link fencing. Chain link fencing is probably the cheapest starting from around £2500 for 1 acre + installation. Whereas if you are looking at fencing 10 acres using our Performance Series on a 10-acre site the cost would be circa £1800.00 including installation & training.
Riverbanks and Undulating Terrain
If your property goes down to the river you may be able to install a small picket fence. These will not stop all dogs as they tend to only be a 90 cm – 100cm high. Prices for Picket fencing start at around £12.00 per metre plus installation.  Alternatively, you can use our dog fence to run along the boundary. This will keep your dog out of the river without disrupting the view. If you have very undulating terrain then you will probably need to install a stock fence but there would be a hefty surge-charge to install this! Again, an invisible fence can be installed for a fraction of the cost.  The trencher used to install the invisible dog fence is extremely adaptable and be operated in both steep and undulating terrain. Images of the dog fence trencher can be seen on our installation & training page.
Dog Fencing price summary
Based on an acre (and excluding gates)
Electronic dog fence (1 dog fully installed – covers gateways as well) – from £3.50 per metre installed.
Stock Fencing (no gates) – from £7.00 per metre installed
Rabbit Fencing (no gates) – from £8.00 per metre installed
Stock Fencing with post and rail (no gates) – from £12.00 per metre
Picket fencing (no gate) – from £20.00 per metre
Close board fence (no gate) – from £35.00 per metre installed
Estate fencing (no gate) from £40.00 per metre installed
Prices have been based on submissions from Companies in Berkshire (2019). Prices are based on properties in the local area and are a guide.
If you have been searching for dog fencing options then read our testimonials on our Trust Pilot reviews. If you would like more information or prices call us today on 03450 623623 or complete our quote form.
https://dogfence.co.uk/wp-content/uploads/2019/10/beagle-jumping-over-fence.jpg
500
334
Sam Chapman
https://www.dogfence.co.uk/wp-content/uploads/2015/10/dogfences_logo_main_cats_orange2.png
Sam Chapman
2019-10-31 12:07:38
2019-11-05 10:28:20
Affordable dog fencing - what are the options?

Ways to Dog Proof Your Garden
Stop your dog from digging up the garden
Dogs love to dig. He's not doing it to annoy you but it's a natural instinct. The reasons dogs dig vary but it could be:
Boredom
Trying to escape
Hunting
Keeping warm/cool/dry
Anxiety
Dogs are social animals if they are bored, they may seek friendship outside of the garden. Your dog proof garden may not be quite so dog-proof! Firstly look at the reason he's digging out. Is he hunting or going after livestock or is he bored? If he's bored then adding in some toys and making sure he is not left alone for long periods should help solve the issue. If he's digging out to hunt or chase livestock then looking at your fencing is the way forward.
Consider lifting the height of the existing fence
Adding concrete around the bottom of the fence
Installing an electronic dog fence
Installing a dog door so that the dog can move freely between the garden and house. Plexidor is a great quality door.
 How can I dog proof of the flower beds
Obvioulsy, you don't want to be putting up fences and barricades around the flower borders. If your dog is jumping, eating or even sleeping in the flower beds then the best dog proof solution is an electronic pet fence.  Our DogFence range has a number of systems that are suitable for both large and small areas. The beauty of the pet fence is that it is invisible and once installed will protect the flower borders 24/7. Why not have a look at our systems and see if this is a solution for you?
He's chasing the local wildlife and next doors sheep
In this situation creating a safe and secure outdoor area is essential. Sadly livestock attacks have been on the increase over the last few years. Farmers, quite rightly need to protect their livestock and livestock have welfare rights as well. Securing your garden equates to responsible dog ownership. In rural areas you may be able to install Deer Fencing which can be effective but very costly. Another alternative is a dog run or kennel but of course, this restricts the dog and can add to boredom and anxiety issues. Again, the most effective method both in monetary and effectiveness is the electronic dog fence. The dog fence will cover the driveways so if a gate is left open the dog is contained and can be run over any terrain. It's also incredibly cost-effective compared to kennels and stock fences!
DogFence have been keeping dogs and cats safe for nearly 20 years using the electronic dog fence. Our Professional Installation team have trained tens of thousands of pets and we wer invited to meet and consult with DEFRA in 2018 to demonstrate our products and service.
Schedule your FREE  estimate today to learn how dog proof fencing solutions can give your pet freedom and you peace of mind.
By: DogFence Ltd on 23-10-2019
https://dogfence.co.uk/wp-content/uploads/2019/10/dog-digging-.jpg
3582
4602
Sam Chapman
https://www.dogfence.co.uk/wp-content/uploads/2015/10/dogfences_logo_main_cats_orange2.png
Sam Chapman
2019-10-24 13:28:28
2019-10-29 14:10:35
Ways to Dog Proof Your Garden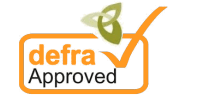 An electric fence was designed ultimately to stop straying dogs.  This can be expanded on for a multitude of scenarios and dangers, to  members of the public and dogs themselves.
Pets love to be out in the fresh air, with freedom to explore. But just letting them out isn't always practical or safe. A responsible owner wants to keep their pet close to home and out of harm's way.   A Dog Fence Pet Containment System you can do just that!
DogFence provides a range of smart, hidden electric fencing for dogs. All of our Containment Systems uphold the rigorous standards of pet protection as laid out by the Electronic Collar Manufacturers Association (EMCA) and are DEFRA Approved.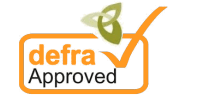 The words "Electric Fence" is not technically the case for our hidden fence products…. The Dog Fence system has no electrical current and is hidden underground operating on FM frequency radio waves.
Your pets can enjoy the full run of your garden and grounds all day, whether you are with them or not, improving their quality of life.
The pet containment system is a radio fence and not an electric fence system.
There is no doubt about that fact that dogs learn through associative learning. When Bruno sees his lead he is likely to get excited, when he hears you touching his bag of food he may drool and run to his bowl. When the bath is run he may go hide! In this same way, your dog may associate the boundary of the hidden fence as a no go area after installation and training.
What You Get With An Electric Fence For Dogs:
Safe for your pets (DEFRA Approved).
Works of Radio frequencies not electricity.
Effective for any number of pets.
Full installation and training.
Pets are free to run, not run away.
Cost effective compared to traditional fencing.
Can keep pets out of 'No-go' areas.
Not just dogs, it's a pet fence and cat fence.
If you are worried about having been away from home for too long, without having let your pet out. It might be that you are worried about your dog bothering the neighbours, straying and getting lost, or being involved in an accident on the road.   Even if you have a static fence installed, a dog can be a great escape artist!
Modern roads are dangerous enough without the additional hazard of stray pets. The nightmare scenario here is that your pet could cause an accident, in which someone could be fatally injured and your pet can suffer the same fate. Responsible pet ownership now means that we have to keep our pets secure.
Using our DEFRA approved electric fence for dogs provides the solution to all of these concerns.
DogFence supplies a system for keeping pets within the boundary of a property without the need to install and maintain an unsightly, expensive traditional fence.
The concept of electric fencing for dogs, was first introduced in America, more than twenty years ago. Over a million pets now benefit from it and times have changed in that electric shock collars are illegal in the UK.  DogFence has worked closely with DEFRA to provide a product which falls within the remit of legal requirements.  The pet containment system from DogFence is a DEFRA approved pet containment training system.
Pet behaviour is usually easy to condition, our training succeeds in substituting a psychological boundary for a physical one.
What Is A Hidden Fence?
A wire is laid around the perimeter of the property or chosen area and is either buried a couple of centimetres underground or attached to existing fencing. A transmitter sends a low power, low frequency radio signal continuously around the wire which acts as an aerial.
Your pet (or pets -can be any number on the same system) wears a tiny battery-powered receiver, on the collar which picks up a coded signal from the wire.
When the pet comes within the signal range, he hears a warning beep from the receiver which he must learn to obey.
If the warning beep is ignored, which may happen just a few times at the beginning. A correction similar to the static electricity sometimes experienced from a car door or lift button will be experienced.
The correction doesn't harm at all, but it startles and your dog doesn't eagerly want to repeat this experience. Association of boundary is learnt via training and initially the use of marker flags to provide an effective way to contain your pet, even without a physical fence in place.
Installation and training is a provided by DogFence. It is important that our step-by-step procedures are followed if the psychological boundary for your pet is to be established. Our expert training advisers guide you through the training process on installation day and provide future support.
Our friendly and helpful team are more than happy to answer questions and give advice. 100% safe – no electricity is carried along the wire. This is 100% not an electric shock fence.
Get in Touch with your requirements today!
Our team can:
Advise on the purchase of your system.
Assist you with the layout.
Advise on the installation.
Quote for the installation.
Answer any questions you may have.
https://dogfence.co.uk/wp-content/uploads/2019/02/dogfence_approved_by_defra_small.png
95
200
Sam Chapman
https://www.dogfence.co.uk/wp-content/uploads/2015/10/dogfences_logo_main_cats_orange2.png
Sam Chapman
2019-09-30 10:54:53
2019-10-21 14:45:52
Electric fence for dogs. What You Need To Know!