Lowering Your Carbon Pawprint: How to be a more Eco-Friendly Dog Owner
When people talk about being more "environmentally friendly" they might consider using public transport to get to work, making sure that the lights are turned off or conscientiously splitting rubbish and recycling.
But how many people think about their canine's carbon pawprint? Humans produce "over 300 million tons of plastic every year" and "the largest market for plastics is as a packaging material with this market accounting for nearly half of all plastic waste that is generated globally."
With an estimated 9 million dogs in the UK, there are a lot of bowls to fill and a lot of packaging to be binned. Add to that poo bags, dogs toys and treats packaging, and our canine companions can be contributing high volumes to the excess of plastic waste which the world struggles to recycle, inevitably ending up in landfill or in our precious oceans.
So, what can you do, as an eco-conscious dog owner, to help reduce the carbon paw-print of your furry family member?
Dinner time!
Did you know… "Fewer than 1 in 20,000 food pouches are recycled… making them more of a burden than single-use coffee cups"?
Within the pet food industry, there are several food packaging options, some more recyclable than others.  Black plastic trays, for example, are more likely to end up incinerated or in landfill as automated recycling facilities find it hard to distinguish black from other colours.  Cans and jars have high carbon emissions through their sourcing and production – plus the only elements that can come from a renewable source is their label.
A more environmentally friendly option would be to consider a carton packaging. These innovative packs are more commonly associated with dairy products and chopped tomatoes than with wet dog food and treats, but some manufacturers are persevering with this type of packaging as they are fully recyclable and keep the food fresh and protected without the need for nasty preservatives.
Made primarily from FSCTM cardboard, cartons start from responsibly managed forests and then end up being turned into roof tiles and toilet rolls at the end of their life cycle.
Consider the origin.
There are still a small number of British dog food manufacturers – which are more than just a brand. Some source produce from within the UK, whereas others get their ingredients from the UK and abroad. By being a UK based manufacturer, they will use less fuel miles from the fields to the factory. Other brands have their food manufactured abroad, thus increasing fuel miles dramatically, and raising your canine's carbon footprint.
 Toys
Have you ever thought about making your own dog toys? Be imaginative with fabrics – an old tea towel, t-shirt or blanket makes a sturdy plaything.  Add in a knot for interest, or alternatively you can plait or weave some fabric and hide treats for extra brain exercise!
If you don't want to make your own, consider choosing toys that are biodegradable or from environmentally conscious companies.
Walkies!
Whilst it is lovely to get in the car and drive to a beautiful countryside location or beach, it is more environmentally friendly to walk straight from the front door.  Make use of your surroundings, go on an adventure, and see what you can find locally to your home. There may be many undiscovered places that you and your dog can enjoy together without the need to get in the car.
Poop…!
Dog mess is a huge problem – the need to pick it up and the need to not use plastic bags have to be equally balanced. A labrador could potentially use over 10,200 poo bags during their lifetime.  There are, however, other options that avoid the use of plastic bags, whilst still cleaning up after your dog.
The easiest solution would be to consider bio-degradable bags. Readily available and easy to purchase as an alternative to plastic, this is a relatively simple switch. You could think about a compost bin at home – although hygiene would need to be a consideration, or a pet poop wormery as more environmentally friendly options.
So, consider making these small steps to make a big difference for all our canine companions to be more environmentally savvy, and begin your journey to a greener world.
https://www.dogfence.co.uk/wp-content/uploads/2015/10/dogfences_logo_main_cats_orange2.png
0
0
Sam Chapman
https://www.dogfence.co.uk/wp-content/uploads/2015/10/dogfences_logo_main_cats_orange2.png
Sam Chapman
2020-06-12 07:03:38
2020-06-12 07:03:38
Lowering Your Carbon Pawprint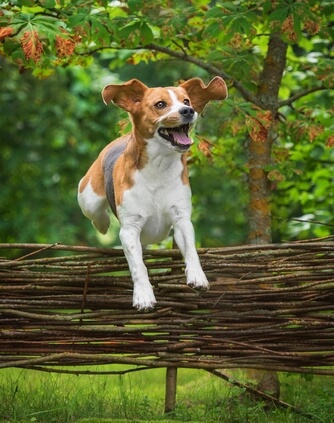 Affordable dog fencing
When it comes to affordable dog fencing there aren't many options as fencing is actually quite expensive.  As with everything you get what you pay for and it depends on whether you want to get your hands dirty. Naturally, these fencing options are based on how large an area you need to fence. The landscape that you need to fence. And also the breed of the dog that requires the dog fencing!
Dog fencing for small areas
If you are looking to fence a small back garden then it is likely that you already have a fence or wall but it isn't meeting your needs. Watch your dog and see if he is using something to climb up and scrabble over or is he climbing or digging. Consider installing trellis above your fence. This can be bought from any good DIY store and is relatively quick to install. If you have a digger add a concrete footer below your fence by pouring concrete along the edge of the fence and sinking the bottom of the fence into the concrete before it dries.  This is naturally a labour intensive job but should do the trick!
If you are not sure where he is getting out then one of our DIY dog fences is going to be the cheapest way forward. These fences are under £250.00 and will cover a small urban garden. If you compare the price of re-fencing a complete rear garden versus adding an electronic dog fence the dog fence will win on price all day long!
For small gardens with low fences, you may be able to upgrade your fence to a close board fence. These fences start at around £38.00 per metre fully installed. You will need to check that you can install a fence of this height before ripping out the old fence.
Rural gardens and small paddocks
It goes without saying that dog fencing for rural areas can be a headache. Not only are you trying to stop your dog going out but the local wildlife is busy pushing its way in. If you have an issue with rabbits and small dogs then this could be a good option for you but it is not the cheapest! Rabbit fencing starts at approx £130.00 per 50m without installation! If you are covering a 1-acre site this will cost in the region of £690.00 just for the galvanised mesh without any posts of labour. Also unless it is extremely well-installed rabbit fencing can be damaged by larger mammals such as Badgers, Muntjack and larger Deer.
If you have hedges or areas with no existing fences then the cheapest form of fencing will be either a stock fence or an electronic dog fence. If you have horses or livestock then you will need to look at stock fencing options. Of course, if it is only a dog or a cat that needs containing then an electronic dog fence is by far the cheapest option.
Our DIY dog fence can be expanded up to an acre for an additional £100.00 and a Professionally Installed dog fence will cost in the region of £1000.00 depending on the location and number of dogs. This would work out more cost-effective than the galvanized or stock fencing and would also protect the driveways. Installing gates can also be very costly and of course, this relies on people shutting the gate when they come or go! Our Professionally installed fences have a lifetime warranty on the hardware and a containment promise for the dog.
Large estates and difficult terrains
If it aesthetics then Estate fencing is most certainly the winner but you will need deep pockets to install this timeless classic! At around £80.00 per 2m panel + installation, it will very soon add up, especially on the large country estate! Again, you will need to think about gates and this type of fencing is not dog secure. Other popular types of fencing are post and rail with stock fencing below or chain link fencing. Chain link fencing is probably the cheapest starting from around £2500 for 1 acre + installation. Whereas if you are looking at fencing 10 acres using our Performance Series on a 10-acre site the cost would be circa £1800.00 including installation & training.
Riverbanks and Undulating Terrain
If your property goes down to the river you may be able to install a small picket fence. These will not stop all dogs as they tend to only be a 90 cm – 100cm high. Prices for Picket fencing start at around £12.00 per metre plus installation.  Alternatively, you can use our dog fence to run along the boundary. This will keep your dog out of the river without disrupting the view. If you have very undulating terrain then you will probably need to install a stock fence but there would be a hefty surge-charge to install this! Again, an invisible fence can be installed for a fraction of the cost.  The trencher used to install the invisible dog fence is extremely adaptable and be operated in both steep and undulating terrain. Images of the dog fence trencher can be seen on our installation & training page.
Dog Fencing price summary
Based on an acre (and excluding gates)
Electronic dog fence (1 dog fully installed – covers gateways as well) – from £3.50 per metre installed.
Stock Fencing (no gates) – from £7.00 per metre installed
Rabbit Fencing (no gates) – from £8.00 per metre installed
Stock Fencing with post and rail (no gates) – from £12.00 per metre
Picket fencing (no gate) – from £20.00 per metre
Close board fence (no gate) – from £35.00 per metre installed
Estate fencing (no gate) from £40.00 per metre installed
Prices have been based on submissions from Companies in Berkshire (2019). Prices are based on properties in the local area and are a guide.
If you have been searching for dog fencing options then read our testimonials on our Trust Pilot reviews. If you would like more information or prices call us today on 03450 623623 or complete our quote form.
https://dogfence.co.uk/wp-content/uploads/2019/10/beagle-jumping-over-fence.jpg
500
334
Sam Chapman
https://www.dogfence.co.uk/wp-content/uploads/2015/10/dogfences_logo_main_cats_orange2.png
Sam Chapman
2019-10-31 12:07:38
2019-11-05 10:28:20
Affordable dog fencing - what are the options?

Ways to Dog Proof Your Garden
Stop your dog from digging up the garden
Dogs love to dig. He's not doing it to annoy you but it's a natural instinct. The reasons dogs dig vary but it could be:
Boredom
Trying to escape
Hunting
Keeping warm/cool/dry
Anxiety
Dogs are social animals if they are bored, they may seek friendship outside of the garden. Your dog proof garden may not be quite so dog-proof! Firstly look at the reason he's digging out. Is he hunting or going after livestock or is he bored? If he's bored then adding in some toys and making sure he is not left alone for long periods should help solve the issue. If he's digging out to hunt or chase livestock then looking at your fencing is the way forward.
Consider lifting the height of the existing fence
Adding concrete around the bottom of the fence
Installing an electronic dog fence
Installing a dog door so that the dog can move freely between the garden and house. Plexidor is a great quality door.
 How can I dog proof of the flower beds
Obvioulsy, you don't want to be putting up fences and barricades around the flower borders. If your dog is jumping, eating or even sleeping in the flower beds then the best dog proof solution is an electronic pet fence.  Our DogFence range has a number of systems that are suitable for both large and small areas. The beauty of the pet fence is that it is invisible and once installed will protect the flower borders 24/7. Why not have a look at our systems and see if this is a solution for you?
He's chasing the local wildlife and next doors sheep
In this situation creating a safe and secure outdoor area is essential. Sadly livestock attacks have been on the increase over the last few years. Farmers, quite rightly need to protect their livestock and livestock have welfare rights as well. Securing your garden equates to responsible dog ownership. In rural areas you may be able to install Deer Fencing which can be effective but very costly. Another alternative is a dog run or kennel but of course, this restricts the dog and can add to boredom and anxiety issues. Again, the most effective method both in monetary and effectiveness is the electronic dog fence. The dog fence will cover the driveways so if a gate is left open the dog is contained and can be run over any terrain. It's also incredibly cost-effective compared to kennels and stock fences!
DogFence have been keeping dogs and cats safe for nearly 20 years using the electronic dog fence. Our Professional Installation team have trained tens of thousands of pets and we wer invited to meet and consult with DEFRA in 2018 to demonstrate our products and service.
Schedule your FREE  estimate today to learn how dog proof fencing solutions can give your pet freedom and you peace of mind.
By: DogFence Ltd on 23-10-2019
https://dogfence.co.uk/wp-content/uploads/2019/10/dog-digging-.jpg
3582
4602
Sam Chapman
https://www.dogfence.co.uk/wp-content/uploads/2015/10/dogfences_logo_main_cats_orange2.png
Sam Chapman
2019-10-24 13:28:28
2019-10-29 14:10:35
Ways to Dog Proof Your Garden