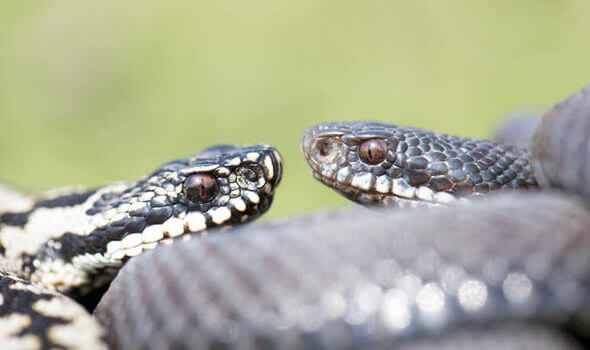 Vet warns dog owners of the risks of adder bites in warmer weather after a family dog was left fighting for his life.
Five-year-old field spaniel, is believed to have been bitten by an adder while sniffing out sand dunes in North Wales and spent almost two weeks fighting for his life at a Veterinary Hospital in Hartford.  You cannot contain your pet when out walking, especially if they are off the lead.
The venom was so toxic, it caused the skin on the abdomen to blacken, die and peel off while causing severe damage to his liver, leaving vets extremely concerned.
Veterinary surgeon, said, "Obviously, these things are very difficult to predict. It's more about getting the message out there that it is a risk and to follow the necessary advice. Snakes are more common in some places than others, and tall grassland is a particular risk. It's definitely something to bear in mind if you have a wandering dog.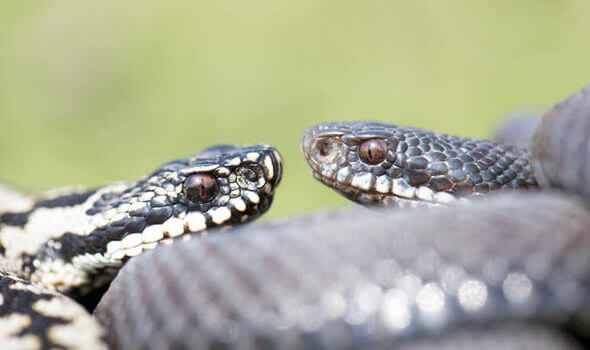 "The majority of bitten dogs make a full recovery with appropriate treatment. However, this dog was really, really poorly when he came to us and it is only through extensive supportive liver medications, broad spectrum antibiotics and fluid therapy that he came through.
"We've not seen a case as severe as this before and we believe the dog had multiple bites."
The dogs owners, were on holiday in North Wales when their pooch was suspected of being bitten while investigating a recently strimmed area of grassland close to the sand dunes. Although he continued to play and fetch his ball normally, he became lethargic when they returned home and later developed soreness and pain on his left side.
The couple sought veterinary advice on holiday and it was suspected their dog had pulled a muscle but his condition gradually deteriorated and they were forced to return to their home early.
"We were told we were not out of the woods, even with his liver enzyme levels started to come down. It really was touch and go."
"Quite a number of people who are dog owners have no idea this can happen. Of course we don't want to scare people but if there's any chance a dog has been bitten you need to know what to do quickly because the symptoms might not show for one to three hours.
The dog had started to develop bruising around his groin area when he returned home from North Wales. "his bloods and his liver enzymes were through the roof."
Snake bites in dogs are uncommon in the UK but they can occur, particularly in spring and summer and interestingly between 3pm and 4pm in the afternoon when the adders are most active.
You can identify an adder as a greyish snake, with a dark and very distinct zig-zag pattern down its back, and a red eye. Males tend to be more silvery-grey in colour, while females are more light or reddish-brown.
The message is, if you notice anything unusual, take your dog to a vet immediately. It's better to err on the side of caution.
There are so many dangers out there for your pet, especially one who has escaped and is roaming unsupervised. As a responsible pet owner, it is important to ensure your pet is contained. Dog Fence provides a pet containment system in the form of a wireless dog fence which works on radio frequency as opposed to electric dog fences and is an effective solution for pet owners with the most cunning of escape artist dogs. Get in touch with our friendly team to discuss your needs today!
Please share this post to increase awareness amongst pet owners! Thank you!
https://dogfence.co.uk/wp-content/uploads/2019/07/dog-adder-bite.jpg
350
590
Sam Chapman
https://www.dogfence.co.uk/wp-content/uploads/2015/10/dogfences_logo_main_cats_orange2.png
Sam Chapman
2019-07-22 13:29:40
2019-08-07 09:39:49
UK Adder Bites - Dog Owner Warning - Pet Containment Fence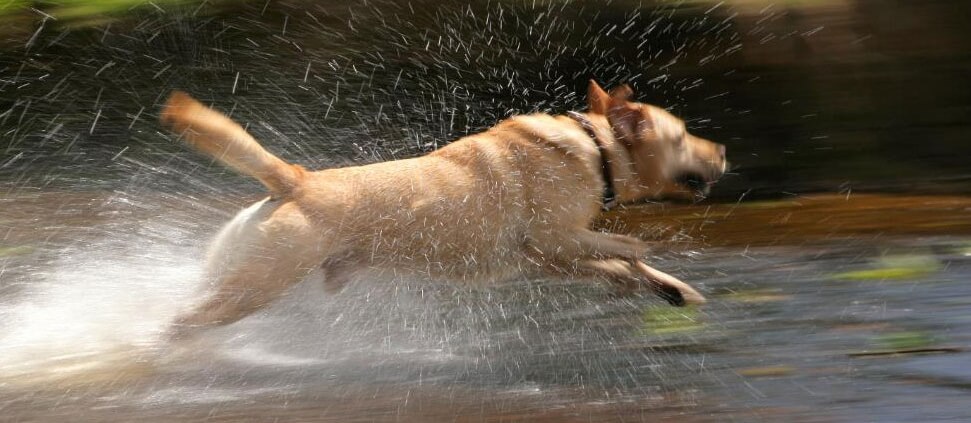 Our Top Tips on What To Do If Your Dog Runs Away.
Containment of a dog can be difficult at times, even more so when you are out enjoying the countryside with your pooch.
1. If you see your dog going, try to capture his attention.
Is your dog is too distracted to be off lead?
The position of ears or overall body language is an indicator of when its time to quickly clip a lead on.
However, if your dog is out of reach or has already taken a few steps in the wrong direction, your first step is to try to help him tune back in to you. Clap your hands, call his name as loudly as you can, whistle, use your most excited voice.
As counter intuitive as it sounds, run away from your dog. This may make him think you're playing a game and he may chase you.
If your dog does come back to you, reward that. Clip a lead on and immediately give scratches and pats. Tell him he's such a good boy. You want to recognise the correct behaviour—that he came to you. This is not a moment to punish him for running away.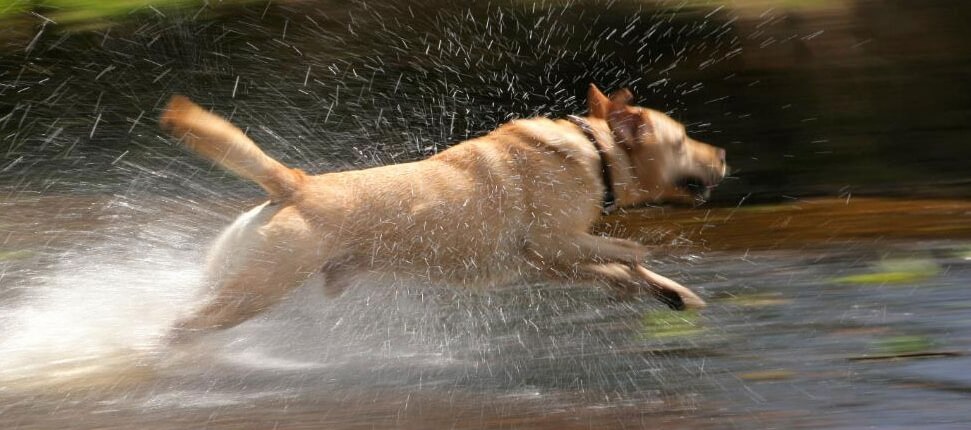 2. Leave something of yours where you last saw your dog.
If your dog runs away in the forest leave your coat in the woods.  Come back the next morning or at the end of the day, your dog might be curled up on your coat  The familiar scent attracts the dog and gives a temporary home base.
3. Spread Out
You want to look for the dog, and will walk and walk and call and call until you find him. Get a group together and all do the same thing. Everyone takes a different route and walks out, calling for the missing dog. In this scenario, it's helpful to have everyone's phone numbers so that you can call off the search if someone finds the dog.
4. Wait where you are.
Inaction may not be your first instinct, but in my experience, a dog usually hasn't actually run away. Just gone on his own adventure for a little while but will come back to the trail.
A dogs comfort zone can be up to 10 minutes long.  Initially, stand on the trail and wait for him to come back.
5. Can your dog can be identified.
Ensure your dog  never goes outside without his collar and tags. His tag should have name, home phone number and mobile number.
The times dogs haves been caught by strangers who have immediately called the numbers on the tags, and enabled pick up right away is a tried and tested means when it comes to your pet wearing a tag.
Be aware that sometimes, your dog may become separated from his collar. All dogs should have a microchip, to identify and  associate with all of your contact numbers. The mobile number is important because it may be that you are not always at home.
6. Trust your dog.
Knowing a regular walking route very well may mean your dog could find his own way home.
7. Contact all the shelters and pounds within several miles.
If you do not find your dog within a certain amount of time, obviously you will start contacting the local dog warden/shelters in your area.
It's a good idea to contact the shelters within a large range such as the next town or county over in all directions or even further. A dog can be turned into a shelter over 50 miles from where they were last seen.
This could be because the dog covered a large distance or because the people who found the dog drove quite a ways to a shelter.
The point is, contact all the shelters in your region and keep contacting them. Often.
8. Have a recent photo of your dog on hand.
Keep a recent photo of your pet on your phone or by email that you can easily pass along to animal control, use on social media or put on posters.
Losing your dog is scary no matter where you are. As dog owners, we want to do everything we can to prevent this dangerous, anxious scenario. However, if the worst happens, I hope that these tips on what to do if your dog runs away will help you reunite with your dog.
The same is true for a dog who has escaped the garden, unlike on a walk, you can manage and stop garden escapes by the use of our invisible fence pet containment system.
https://dogfence.co.uk/wp-content/uploads/2019/07/dog_runs_away_pet_containment_system.jpg
485
971
Sam Chapman
https://www.dogfence.co.uk/wp-content/uploads/2015/10/dogfences_logo_main_cats_orange2.png
Sam Chapman
2019-07-05 09:29:54
2019-08-07 09:44:26
Pet Containment - If Your Dog Runs Away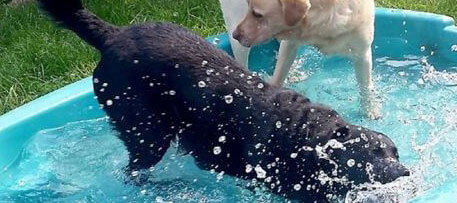 Dogfence Ltd
Many people don't let their dogs in on the fun because they're worried about the heat and more.  There is Good news!  Your four-legged friend can enjoy the great outdoors if you follow these key tips for keeping dogs cool and safe.
Keep Your Dog Hydrated
Keeping dogs cool in summer requires having plenty of water on hand. One of the easiest ways to keep your dog cool and hydrated is to carry a portable, collapsible water bowl and bottles of cold water when you go out.  Make sure your dog drinks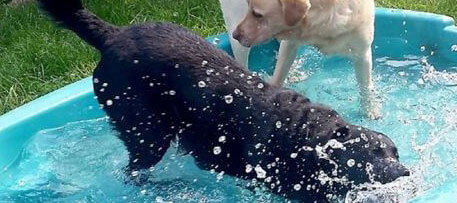 water every hour. If your dog starts panting excessively, get him into the shade and offer more water right away.
Get your dog wet
One way to keep your dog cool during outdoor gatherings is to allow him to swim or do other water play activities.  Always check out a venue ahead of time to determine what water options are available for your dog.  It's also a good idea to bring a few old towels along to dry your dog after play.
Keep your dog out of the midday heat
Avoid exercising with your dog on those hotter days, and if you must, at least avoid the midday hours or anytime it seems too hot for yourself. When going for a walk, avoid hot asphalt that can burn your pet's paws, keep running to a minimum, and bring plenty of cold water to hydrate and cool your dog.
Keep your dog out of a parked car
With all the tragic stories in the news, this should go without saying — but you should never ever leave your dog in a parked car, not even for a moment. According to The Centers for Disease Control and Prevention, "Cars parked in direct sunlight can reach internal temperatures up to 131°F-172°F when it's 80°F-100°F outside." Even with the windows cracked, temperatures rise quickly – hot enough to cause irreversible organ damage or even death.
Keep your dog out of the dog house
Dog houses aren't safe in hot weather, because they block air flow and trap the heat inside. If your pet is outside, be sure to keep him or her in the shade when possible, with plenty of water on hand. You can add ice to their water bowl if it's especially hot to help keep your dog cool when he's outside.
Know the signs of heatstroke in dogs and what to do
Heatstroke is a serious hazard for dogs on hot days, especially those who are very young or old, or not in good health. Watch for the following signs of heatstroke in your dog:
Excessive panting and salivating
Obvious discomfort
Vomiting and diarrhoea
Disorientation
Seizures
If you see any of these signs in your dog, move him or her into a cooler environment right away and call your vet. You can use ice packs and give your pet some cool water to alleviate the condition until you get to the vets.
Many of the complications from heatstroke do not begin to appear until several days after the incident — but prompt veterinary care can potentially prevent or treat some of these complications.
So, when you and your four-legged best friend head out this summer, remember these important tips for keeping dogs cool outside.   If your dog tends to escape the garden you cannot ensure they are cool when out adventuring without you, it is ideal to invest in an invisible fence system when a static fence does not suffice.
https://dogfence.co.uk/wp-content/uploads/2019/06/keeping_dogs_cool_invisible_fence.jpg
203
457
Sam Chapman
https://www.dogfence.co.uk/wp-content/uploads/2015/10/dogfences_logo_main_cats_orange2.png
Sam Chapman
2019-06-28 08:07:27
2019-08-07 09:46:00
Keep Your Dog Cool This Summer