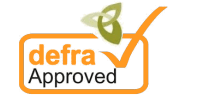 An electric fence was designed ultimately to stop straying dogs.  This can be expanded on for a multitude of scenarios and dangers, to  members of the public and dogs themselves.
Pets love to be out in the fresh air, with freedom to explore. But just letting them out isn't always practical or safe. A responsible owner wants to keep their pet close to home and out of harm's way.   A Dog Fence Pet Containment System you can do just that!
DogFence provides a range of smart, hidden electric fencing for dogs. All of our Containment Systems uphold the rigorous standards of pet protection as laid out by the Electronic Collar Manufacturers Association (EMCA) and are DEFRA Approved.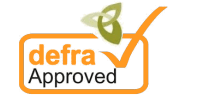 The words "Electric Fence" is not technically the case for our hidden fence products…. The Dog Fence system has no electrical current and is hidden underground operating on FM frequency radio waves.
Your pets can enjoy the full run of your garden and grounds all day, whether you are with them or not, improving their quality of life.
The pet containment system is a radio fence and not an electric fence system.
There is no doubt about that fact that dogs learn through associative learning. When Bruno sees his lead he is likely to get excited, when he hears you touching his bag of food he may drool and run to his bowl. When the bath is run he may go hide! In this same way, your dog may associate the boundary of the hidden fence as a no go area after installation and training.
What You Get With An Electric Fence For Dogs:
Safe for your pets (DEFRA Approved).
Works of Radio frequencies not electricity.
Effective for any number of pets.
Full installation and training.
Pets are free to run, not run away.
Cost effective compared to traditional fencing.
Can keep pets out of 'No-go' areas.
Not just dogs, it's a pet fence and cat fence.
If you are worried about having been away from home for too long, without having let your pet out. It might be that you are worried about your dog bothering the neighbours, straying and getting lost, or being involved in an accident on the road.   Even if you have a static fence installed, a dog can be a great escape artist!
Modern roads are dangerous enough without the additional hazard of stray pets. The nightmare scenario here is that your pet could cause an accident, in which someone could be fatally injured and your pet can suffer the same fate. Responsible pet ownership now means that we have to keep our pets secure.
Using our DEFRA approved electric fence for dogs provides the solution to all of these concerns.
DogFence supplies a system for keeping pets within the boundary of a property without the need to install and maintain an unsightly, expensive traditional fence.
The concept of electric fencing for dogs, was first introduced in America, more than twenty years ago. Over a million pets now benefit from it and times have changed in that electric shock collars are illegal in the UK.  DogFence has worked closely with DEFRA to provide a product which falls within the remit of legal requirements.  The pet containment system from DogFence is a DEFRA approved pet containment training system.
Pet behaviour is usually easy to condition, our training succeeds in substituting a psychological boundary for a physical one.
What Is A Hidden Fence?
A wire is laid around the perimeter of the property or chosen area and is either buried a couple of centimetres underground or attached to existing fencing. A transmitter sends a low power, low frequency radio signal continuously around the wire which acts as an aerial.
Your pet (or pets -can be any number on the same system) wears a tiny battery-powered receiver, on the collar which picks up a coded signal from the wire.
When the pet comes within the signal range, he hears a warning beep from the receiver which he must learn to obey.
If the warning beep is ignored, which may happen just a few times at the beginning. A correction similar to the static electricity sometimes experienced from a car door or lift button will be experienced.
The correction doesn't harm at all, but it startles and your dog doesn't eagerly want to repeat this experience. Association of boundary is learnt via training and initially the use of marker flags to provide an effective way to contain your pet, even without a physical fence in place.
Installation and training is a provided by DogFence. It is important that our step-by-step procedures are followed if the psychological boundary for your pet is to be established. Our expert training advisers guide you through the training process on installation day and provide future support.
Our friendly and helpful team are more than happy to answer questions and give advice. 100% safe – no electricity is carried along the wire. This is 100% not an electric shock fence.
Get in Touch with your requirements today!
Our team can:
Advise on the purchase of your system.
Assist you with the layout.
Advise on the installation.
Quote for the installation.
Answer any questions you may have.
https://dogfence.co.uk/wp-content/uploads/2019/02/dogfence_approved_by_defra_small.png
95
200
Sam Chapman
https://www.dogfence.co.uk/wp-content/uploads/2015/10/dogfences_logo_main_cats_orange2.png
Sam Chapman
2019-09-30 10:54:53
2019-10-21 14:45:52
Electric fence for dogs. What You Need To Know!

Indoor Dog Fence – The Solution To Stair Gates
An indoor dog fence for a dog in your home is essential. Owning a puppy, creates the need of having some way to contain your pet.  This can be for safety or you may simply want some indoor area's, to be a no go zone!
Like parents with children, the use of stair-gates or playpens are fine when a dog is a pup.  Of course dogs grow and even a small breed dog will scratch.  Damaging the gate, the door frame and can completely pull the gate away and escape.  A dog escaping a gate can lead to injury to claws, paws or worse if the gate falls.  A larger dog can simply jump over it and go where they please.
The Solution to Stair Gates.
Dogfence Ltd crafted a solution based product to combat exterior issues with a pet containment system which works within the confines of your garden/land. The indoor dog fence system, which can be used as a standalone system, or to compliment your outdoor dog fence.
How The Indoor Fence Works
Sharing your home with a dog, does not mean you want them to have access to every room.   A babies room, upstairs or where you have items you do not want broken or chewed.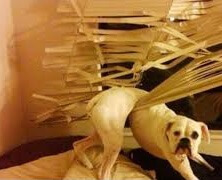 The Indoor invisible fence is the solution you need!
If you have used a stair gate across the staircase or doorways, you will likely recall tripping over them.  Struggling with your hands full to open or even pass through the gate.  Not to mention the damage to paintwork on the door frame when the gate is knocked off or the frame by members of the household.  What about when your pet tries to get through?   Simply shutting a door can result in damage to the door, frame and flooring by your pet.  A gated solution can become costly.
The indoor dog fence system works in very much the same way, as the outdoor fence.  The collar gives an audible beep, followed by an impulse when the boundary is neared.  Our training methods ensure your pet, rarely, sets their collar off.
There are a different indoor dog fence options.  The Indoor Fence IB200 or BOB (Battery Operated Boundary), which can be moved from room to room.  We offer a bespoke solution for our indoor fencing service.  Take a look at our indoor dog fence page for further information or get in touch to speak to our team and discuss a solution for your indoor pet containment needs.
https://dogfence.co.uk/wp-content/uploads/2019/08/animal-welfare-1116205_1920.jpg
1357
1920
Sam Chapman
https://www.dogfence.co.uk/wp-content/uploads/2015/10/dogfences_logo_main_cats_orange2.png
Sam Chapman
2019-09-25 12:06:31
2019-09-30 10:57:21
Indoor Dog Fence - The Solution To Stair Gates

The truth about containment fences – the myths unraveled!
You've most likely heard more than one containment fence myth. There are not many products that are surrounded with such controversy or misunderstanding. People who have never seen or even used a containment fence will often feel qualified to repeat the rhetoric they have read. So let's look at some of the myths and answer them honestly and frankly.
Containment Fence collars can hurt your pet and cause pain, fear, and distress.
Incorrect – modern fence collars are completely adjustable and can offer levels that are virtually undetectable even to human skin. It is true that the early collars (some 40 years ago) generated a high-level shock but as with all technology things have moved on considerably. Many owners will try the collar before using it on the dog and a popular response is "how will that keep my dog in?" The training aspect of the fence means that most owners will ask when the dog is going to receive the shock. They are then "shocked" when they learn that dog has already received the activation. Contrary to popular belief the dog does not leap into arms of the owner screaming and for most dogs, the flags are the scariest part of the fence.
Fence collars are like electrocuting your dog.
Incorrect. The truth is that a fence collar is very similar to a Tens machine that humans use for physio and pain relief.  Studies have proved that there is no harm done to your pet. The "shock" that is delivered is actually a small static impulse and it too low to be classed as a shock.
Containment fence collars burn dogs and cats.
Lie – It is physically impossible for a containment fence collar to burn a cat, dog or human. Actually, they don't generate any heat and are incapable of causing a burn. If you want to put it to the test take a thin piece of paper and try to light it with a fence collar or even an e-collar.
"I've seen the burn marks!"  No, what you've seen is pressure necrosis. Pressure sores are caused when the collar is left on the pet for too long. The collar must be removed for a minimum of 8 hours in every 24 hour period.
The dog fence collar will electrocute my dog if it gets wet
False, the fence collars are designed to be waterproof. In actual fact, if the dog swims in the collar and the coat is wet the impulse is dissipated across the fur. So in actual fact, a fence collar is less effective if the dog is wet.
Containment Fences are used by lazy people who can't be bothered to train their dogs!
Those that are against containment fences will often throw this one into the hat. So let's answer this with a few common reasons why people use containment fences:
You can't train a cat to stay at home. Cats can climb and without creating a prison it is virtually impossible to contain a cat in a rural garden.
Most people enquiring about a containment fence have spent hours and hundreds of £'s, maybe even thousands, trying to contain their pets – a containment fence is often the last resort. The lure of the livestock or vermin outside is too strong. Pushing through brambles must be painful –  if they are in "the red mist mode" they will go.
Some dogs have a very high prey drive and are driven to hunt. Positive only training will not always work for all dogs.
The dog was on their "last chance saloon" because the farmer or gamekeeper has threatened to shoot him.
Most Professionally installed containment fences cost over £1000 – a cheaper option would be to lock the dog away or chain him up. People that install containment fences want their pets to have freedom but keep them safe at the same time.
The owner received a call after their pet was injured on the road.
Dog and cat fences often destroy the relationship between the owner and their pets
Interestingly, the Lincoln report proved that cat owners that used a containment fence had a closer relationship with their cats. This is probably because the cats are not allowed to wander but are content as they have access to the outside to display normal feline behaviors. Many dog owners report that their dogs are calmer once they are contained with an invisible dog fence. Again, this is probably because they are not locked away but are allowed free access to roam within a boundary and are able to just be dogs!
Invisible Fences are only for aggressive dogs
This is 100% incorrect an invisible fence should never be used for an aggressive dog. The fence is an invisible barrier and works in a subtle and gentle way. If a dog has a history of aggression he or she is not a suitable candidate for an invisible dog fence.
People that use electronic pet fences want to hurt dogs and cats
Our experience is the complete opposite. Folks who use containment fences are passionate about keeping their pets safe. Our customers range from ordinary families to vets, dog trainers, cat and dog rescue customers. Sadistic people will always inflict cruelty on animals but they will rarely spend money to do so. We have had owners that have said that they could never have had another cat or dog had it not been for the fence. The pain of having a pet injured or killed on the roads was too much to stand.
Conclusion
There will always be the "keyboard warriors" who are happy to spout rhetoric. When we come up against the propaganda we offer a simple invitation – "come and see for yourself, watch a dog or a cat in training or come and visit our dogs and cats and see for yourself. Afterall seeing is believing and what can't speak can't lie. To date, we have never had a single uptake for our invitation. The usual response is I don't want to see or be a part of this. To those people we say:
"Your assumptions are your windows on the world. Scrub them off every once in a while, or the light won't come in."
― Isaac Asimov
We truly believe that if someone who is skeptical can be open-minded and meet with us they will learn. What they will see is that we offer a good life for dogs, cats and their owners. Indeed the UK Government decided this was the case in August 2018. After listening to containment fence users and meeting with us they concluded that containment fences save pets lives.
"However, after listening closely to the views of pet owners and respondents, the Government will not extend the ban to invisible fencing systems which can keep pets away from roads and potential traffic accidents. These devices are particularly useful for cat owners and animals often respond well to invisible fencing and quickly learn to stay within a boundary without receiving a static pulse."
If you would like to know more about how a containment fence could work for you please call us – 01628 476475 or contact us for a bespoke estimate here.
Links: https://www.gov.uk/government/consultations/animal-welfare-banning-the-use-of-electronic-training-collars-for-cats-and-dogs
https://dogfence.co.uk/wp-content/uploads/2019/08/animal-welfare-1116205_1920.jpg
1357
1920
Sam Chapman
https://www.dogfence.co.uk/wp-content/uploads/2015/10/dogfences_logo_main_cats_orange2.png
Sam Chapman
2019-08-20 11:23:22
2019-10-11 09:52:56
The Containment Fence Myth - truth or lies lets learn more