Best fencing for dogs – what are the options?
When is comes to fencing for dogs it really depends on several important points. A big dog will need a big fence. A four foot fence is nothing to a big dog. Equally small dogs are excellent climbers. It is important to consider the dog breed when choosing a fence. Below are some points to consider when finding the best solution for your dog and environment. All dogs are different, your dog may be fine in your present home and then you move and something changes.  Ask yourself the following before choosing your dog fencing solution.
Do you live in an urban area?
Are you rural?
What fencing do you currently have?
What breed of dog do you have?
Is the dog currently escaping?
What size area requires fencing?
Below we have noted some of the most popular forms of fencing for dogs so that Fido stays safe at home where he should be!
Types of fencing for dogs
Chain Link Fences
Arguably this is not the prettiest type of fencing but it is one of the most economical. Chain link fencing can be built to varying heights and can also be used to construct a dog run or pen. The issue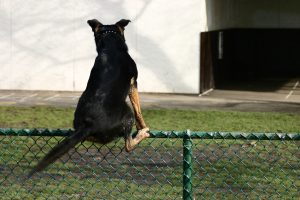 that people often have with chain link fencing is that other larger wild animals (foxes and badgers) can cause damage to this type of fence.  When the fence is damaged this gives the dog  an open avenue to the outside worldwide.
Interestingly Terriers are particularly good climbers and often see chain link fences as an easy ladder to escape. the lovely links make great foot holds for both large and small dogs. Chain link fences tend to be a popular choice for more rural customers as they can be softened with foliage. If you have a large breed of dog the fence height should be a minimum of 6ft to prevent a "climb out".
Close Board Wooden Fences
This is probably the most popular type of fencing for urban areas. A Close Board fence can be a good option because the dog cannot see the rabbits and squirrels living on the other-side! This may curtail his desire to wander but in some cases can increase anxiety. If a dog can hear but not see what is the other side of the fence this may increase his territorial behavior and lead to excessive barking.
When it comes to fencing it's a mid priced option if you have a small town garden. This type of fencing for dogs is usually sufficient but if your dog is a digger or a climber then this may not be the best solution. A 6ft close board fence is usually only installed in the rear of the garden so you may have to look at other options for the front of the property. Take note if your dog is a digger you should also concrete below ground!
Stock  and Deer Fencing
Stocking and Deer fencing is usually only installed on large rural properties. When installing this type of fencing it is usually best to get the fence dug into the ground to prevent the dog and wildlife digging under it. This can be a costly exercise for large areas and depending on the breed may need to be quite high to prevent a "climb out". Stock fences can be installed in front of hedges to give a secondary barrier. If you have a very small dog then a stock fence will be ineffective as the dog can squeeze through the wire.
Electronic dog fence
Incredibly, this type of fencing for dogs has been around for over 40 years. It is a little known fencing solution for dog owners in the UK but widely used in the USA. The advantage of an electronic dog fence is that it can be used on both large or small properties. The electronic dog fence is invisible and so does not create any unsightly barriers. There are several advantages that electronic fencing has over traditional methods.
The dog cannot dig under or jumper over the electronic dog fence.
It is cheaper than traditional fences.
Does not obstruct views and is not unsightly.
Can be taken with you if you move.
Protects the drive even if the gate is open.
Even on most standard urban gardens and electronic dog fence is a most cost effective solution. It is simple to install and offers a safe and effective solution. Having been rigorously tested by Lincoln University these fences are have been proved safe and effective.
If you are intrigued but think how our fence may not work for you why not read some of our customer testimonials. If you would like to know more our experienced professionals can chat to you. We can then put together a bespoke estimate for your dog, property and budget.
For an  for an estimate call or contact DogFence on 03450 623623 or info@dogfence.co.uk
https://dogfence.co.uk/wp-content/uploads/2019/01/dog-looking-through-fence.jpg
3299
5472
Sam Chapman
https://www.dogfence.co.uk/wp-content/uploads/2015/10/dogfences_logo_main_cats_orange2.png
Sam Chapman
2019-01-16 14:52:00
2019-10-11 10:05:05
Fencing for dogs we explore the options for dog owners