What is an electric dog fence?
Electric dog fences have recently made the news. Just like Marmite, they are a contentious issue; people are either strongly for or violently against these systems.
Actually, there is no such thing as an electric dog fence.  The correct name for a dog fence is a radio dog fence. A dog fence does not have any electricity in the cable and is physically incapable of electrocuting a dog or a cat.  Of course, we all know that electric fence is a system used to keep livestock within an area. This type of fencing does have electricity running through the wire or net and is able to deliver an electric shock.
How does a dog fence work?
With a dog fence, the boundary wire carries a harmless radio signal. The dog or cat wears a computer collar which is programmed to pick up the radio signal. The size of the radio field can be altered to the size or breed of the pet. When the pet enters the radio signal zone the collar wakes up and gives out a high pitched warning beep. Should the pet continues further into the zone the collar gives out a static impulse; not an electrical shock. The impulse is similar to a Tens machine or abdominal exercise machine and is completely safe and harmless. The impulse is called a "correction" as it is designed to startle the pet and train them to avoid the area. The label "electric dog fence" is usually given as people assume that an electric shock is delivered when nothing could be further from the truth!
How does an electric fence work?
An Electric Fence is an electrical circuit that is charged by an electric fence energizer.  A high voltage current is sent through the wire, tape or netting.  The charge is sent through the fence in 1-2 second intervals. The fence acts as an open circuit.  This becomes complete when an animal or person standing on the ground touches it.  If an animal touches the wire the circuit closes and the current passes through the animal to deliver an electric shock.
Dog fences are cruel!
Interestingly, recent research has proved that dog fences are far from cruel, in fact, it has been proved that they save lives. Research carried out via the UK Government in conjunction with containment fence Companies and also a privately funded study through Lincoln University has proved that containment fences save lives.
Professor Daniel Mills an eminent Feline Expert "While some will argue that electronic containment systems can never be justified for pets, others highlight that, in the UK alone, hundreds of thousands of cats are killed and injured on roads each year and these devices can prevent these often fatal injuries and the emotional cost to the cats and their owners. In contrast, housing cats solely indoors to remove such risks is associated with increased prevalence of a range of health problems including obesity, Feline Urologic Syndrome and dental disease. Long-term exposure to common flame retardants widely used in homes may also have toxic side effects for cats."
Sheep Attacks
Rising dog attacks on sheep also highlight the welfare issue that stray dogs can cause to other livestock. Stray dogs can kill sheep, cats and cause RTA's. Farmers in many areas support the use of "electric dog fences" to keep their own stock safe. In Scotland, the increasing dog attacks on sheep has led to a public consultation regarding changing the law through a Protection of Livestock bill. Whilst the #takethelead campaign is a good starting point. Many dog attacks on livestock are from dogs that have escaped from the property. Similarly, leads can break and collars can be incorrectly fitted so training your dog not to chase sheep is a must.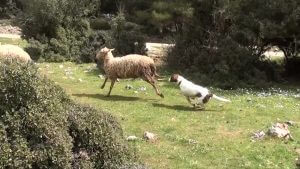 Far from being cruel dog fences save lives. Much better a small static impulse and some training than the bullet of a gun or being PTS by on a court order.
Can you use an electric fence for pets?
There is no law banning the use of electric fencing for dogs or cats. Whilst the voltage on these systems is very high no testing has been carried out to determine the long effects.  There are certain safety features found within "electric dog fences" that are not found in electric stock fences.
Dog Fence verses Electric Fence
Dog Fence – audible warning as pet approaches
Electric fence – no warning until pet touches the wire
Dog Fence – Automatically shuts down after 15 seconds to prevent distress
Electric fence – will continue to shock until the pet is released.
Dog Fence – can be used under driveways and open areas
Electric fence – can only be used where no access is required
Dog Fence – a static correction is humane
Electric Fence – high levels of shock may not be good for pets.
Sadly the media and social media groups have given dog fences a bad name. Both research and those that use these fences prove that these systems save pets lives. The label electric dog fence naturally conjures up the idea of a dog being electrocuted or wired up to the electricity. Nothing could be further from the truth. We all accept that sometimes we have to deliver a small amount of discomfort to save a life. We vaccinate our pets and we microchip pet, both of which cause moderate discomfort.  Yet we hear the cries of cruel and barbaric when we discuss dog fences.
Is this because people do not understand how they work or how they feel? These blogs are designed to be open and honest about how the systems work and if you would like to learn more please call us on 03450 623623 or visit our web site https://dogfence.co.uk/. 
https://dogfence.co.uk/wp-content/uploads/2019/04/shutterstock_307092482.jpg
4000
4000
Sam Chapman
https://www.dogfence.co.uk/wp-content/uploads/2015/10/dogfences_logo_main_cats_orange2.png
Sam Chapman
2019-04-24 15:12:10
2019-10-11 10:05:54
Electric dog fence - the myths and the truth!