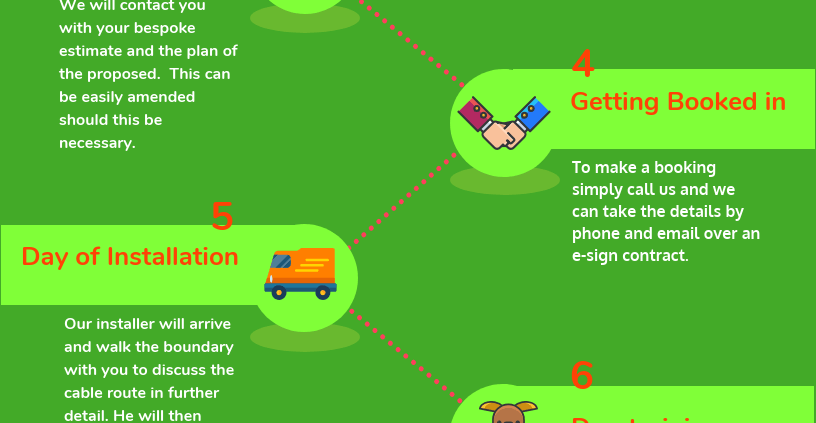 What You Need to Know About our Electronic Dog Fence: FAQ for New Customers
By: DogFence on 14-05-19
So you found our electronic dog fence online and made an enquiry. We don't need to visit your property to give you an estimate. Using our online mapping tool, similar to google earth, we can locate your property and measure out your boundary. Our office team will usually try to contact you as well to chat through your questions and discuss any areas of the property that might need extra attention.
Booking a dog fence installation
Booking your dog fence installation is simple. Our team will have sent over an estimate with the proposed boundary image. They will have also discussed the different systems with you, Pro Fence 1200, Performance Series and Smart Fence. Once you have agreed on a date and the system they will take some further information about your dog. A deposit is paid to secure the dog fence installation date and a confirmation of the booking will be sent over. Our office team and Dog Fence Installers are here for every step of the journey to answer your questions regarding our electronic dog fences and support you as you transition to giving your pet a happier, safer life.
Dog fence day
As a general rule, we commence the dog fence Installation will commence circa 07.30am! Interestingly this is to avoid rush-hour traffic and maximize daylight during the winter months. Our Installer will walk the boundary with your to fine-tune the electronic dog fence route. Once this has been agreed we should not need your attention again until we commence the dog fence training.
Our unique trenching equipment will bury the cable directly into the ground. We endeavour to bury boundary cables but if the terrain or an area is not suitable we can install cable above ground. Of course, the installation duration will vary depending on the size and the terrain but as a general rule, we will be ready to train your dog in the afternoon.
Electronic dog fence training
Now for the magic! We will not hook your dog up to the mains, we will not hurt your dog, we will train your dog using a recognised protocol. Actually, the training is very subtle and for some dogs, the scariest part is the temporary training flags. These little "flag" aliens can be quite scary to some dogs and others will play or stalk them. As with people, all dogs are different as we will treat them as individuals.  The flags are a vital part of the training and will give the dog a visual for the electronic dog fence boundary.
Don't worry! Your Installer will look after your pet, he will involve you in the training and you will be amazed at how quick and simple the training is. All our Installers are trained to offer the full Dog Fence Installation & Training program. They will find the level suitable for your pet and work to ensure that he or she understands the fence.
Hopefully, he will answer all your questions but if you forget anything or you have a query you can call the office after the installation. The notes from the day will be electronically uploaded so we can access the training info and answer your questions.
Does the electronic dog fence come with a guarantee?
Absolutely! DogFence offers the most comprehensive guarantee worldwide. Our lifetime hardware warranty covers the transmitter & computer collar for life and even extends to dog chews. But more importantly, we offer a Containment Promise on professionally installed, outdoor systems.
Should your system break down for any reason you can also schedule a service appointment and one of our engineers will test or repair your entire fence or train any new pets that you may have acquired.
Is there any ongoing maintenance for the fence?
Naturally, it is important to check the fence from time to time. At DogFence we recommend testing the electronic fence monthly. This would include checking the battery and collar fit and takes less than 5 minutes. The electronic dog fence collars will alert you when you require a battery. After the dog fence installation, you will be invited to sign up to our battery program. If you decide to purchase batteries on an ad-hoc basis that's fine.  But it is important to remember that when the battery runs out the pet can run out! Other than the battery and checking the collar fit there is no ongoing maintenance required.
How often do I replace the battery in my dog's Computer Collar?
Of course, we all lead busy lives but once you see the red flashing light on your electronic dog fence collar you need to take action. The schedule for the battery changes is as follows:
R12m & R7m (mini) collars – every 6 months
R12 & R9 (standard collars – every 18 – 24 months
The green status light will change from a steady flash every forty seconds to a rapid flash every 10 seconds. At this point, you have approx 2 weeks to change the battery.
Where can I buy Batteries?
DogFence offers a few different options for customers to replace batteries.
How often should I remove the electronic collar?
VVIP – the collar needs to be removed every day! Leaving the collar on the dog can cause a skin irritation. We strongly recommend that you remove the collar for a minimum of 6 hours every day but we recommend 8 hours. On the day of the dog fence installation, you will be given all this information again together with a continuation sheet to assist you in the early days' post installation.
If you would like to know more about our electronic dog fence please call us. We can chat to you and pop together an estimate for the dog fence installation – 03450 623623 or info@dogfence.co.uk.
https://dogfence.co.uk/wp-content/uploads/2019/05/dog-fence-installation-timeline.png
1830
816
Sam Chapman
https://www.dogfence.co.uk/wp-content/uploads/2015/10/dogfences_logo_main_cats_orange2.png
Sam Chapman
2019-05-14 12:45:01
2019-08-28 13:27:25
Electronic dog fence - FAQ's for new customers