"Ugly" dog breeds are increasing in popularity as owners look for pets which provoke a strong reaction, new figures show.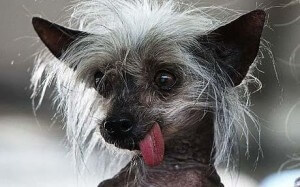 Miss Ellie, a Chinese Crested Hairless dog, won the World's Ugliest Dog Contest last year Photo: Getty Images
Growing numbers of Britons are shunning traditional breeds in favour of the less obvious charms of animals which even their staunchest supporters might concede are not blessed in the looks department.
The surprising surge in popularity of a series of "ugly" or unconventional-looking dog breeds is revealed in statistics from the Kennel Club on the numbers of pedigree puppies born in the last decade.
Among the fastest risers were the Mexican hairless and Chinese crested, both of which are largely bald with wizened features, the Cirneco Dell'Etna and Pharaoh Hound, distinguished by their oversized bat-like ears, and the wrinkled-faced dogue de Bordeaux, owned by Frank Lampard and Wayne Rooney, the England footballers.
Between these five breeds, 3,452 puppies were born in 2010, compared with just 990 in 2001.
Meanwhile, many traditional breeds are plummeting in numbers, among them the Yorkshire terrier (down 32 per cent since 2001 to 3,441 puppies in 2010), and West Highland White terrier, (down 51 per cent to 5,361), German shepherd (down 27 per cent to 10,364) and golden retriever (down 20 per cent to 7,911).
https://dogfence.co.uk/wp-content/uploads/2012/01/Ugly-dog-300x187.jpg
187
300
Sam Chapman
https://www.dogfence.co.uk/wp-content/uploads/2015/10/dogfences_logo_main_cats_orange2.png
Sam Chapman
2012-01-25 16:37:27
2019-10-11 09:59:06
Owners opt for 'ugly' breeds of dog