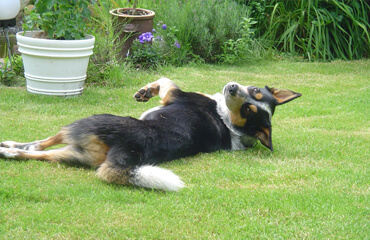 Freedom as Spring is just about to arrive, with this comes the pleasure of getting out and letting your pet roam and explore inside the garden fence boundaries once more.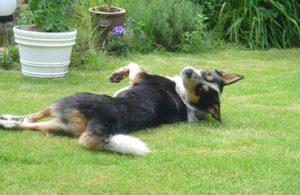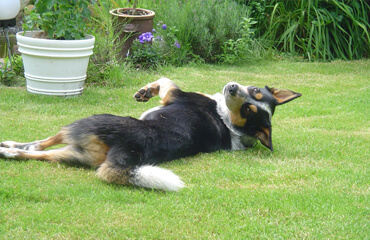 Spring Pet Freedom Safety Tips.
Use heartworm and flea and tick preventive Now!  Your dog or cat should be receiving year-round monthly heart-worm preventive.
Be lungworm aware. Lungworm can be contracted either by dogs eating slugs and snails, or from drinking water from a bowl where a slug or snail has been.  Even picking up a toy that a slug or snail has crawled into poses a risk.  So don't leave toys in the garden overnight and regularly clean out any water bowls in the garden.
Spring clean carefully – As you clean out your garages and prep your gardens, treat your fence etc.  Remember these activities may pose a risk to your pet. Fertilisers, pesticides, weed-killers, and even mulch can all be dangerous to dogs and cats.  Take care when you are putting things like this inside your garden boundaries,  where they are accessible for your pet to investigate or worse consume.
When gardening, DO NOT use slug pellets to protect your plants, as these are tasty but toxic to dogs and can have fatal results.
Just because the suns out doesn't mean you should instantly take your pet out on long walks.  Your dog will be just as out of shape from winter inactivity as you are.  This is the time of year veterinarians see torn ligaments, strains and sprains, and a variety of aches and pains in dogs. Take it easy. Gradually build up strength and stamina, this is especially true in older pets.
Longer days also mean pets go into "heat."  For many stray, homeless, and neglected dogs and cats, this means unwanted litters. Animal shelters and rescue groups are typically stretched to capacity during spring.  Do what you can.  If you know someone looking for a pet, encourage adoption or rescue.
It is a legal requirement for all dogs in the UK to be micro-chipped, so make sure your dog is chipped and your contact details on the microchip database are kept up to date.  Also your dog should wear a collar and tag, bearing the owner's details whenever he is out in public.  If your dog makes a bid for freedom, beyond your garden fence, it can mean paying a sum to your local dog warden to get your pet back.
The sun can be quite intense even in the Spring so do not leave dogs in cars on hot days.
Plants are popping up in the spring and there are some flowers and plants which pose a danger to your pets.  Lilies are especially toxic to cats, if ingested every part of the lily came cause serious health problems and even be fatal.  For dogs – lilies, azaleas and foxglove flowers and even daffodil bulbs can present a danger to your dog.
Always keep your dog on the lead in fields where there is livestock. Chances are they will have young this time of year, especially lambs. Also be aware that birds like pheasants and swans nest on the ground so don't let your dog disturb the nests.
Keep an eye on your dog in the garden as dog thefts from gardens are on the increase.  NEVER tie your dog up outside a shop – every day we see stories of dogs being stolen in this way.
What else happens in spring?
That's right Easter – a time for chocolate and sweets.  Children and adults can accidentally drop these around the house, in the garden and out in public. A dogs trusty nose can sniff out a sweet treat with ease.
But here it is, its not a treat, it's a danger – Why?
Chocolate – Chocolate, even in the smallest amounts, can cause serious health problems if ingested by a dog. The darker the chocolate, the greater the danger to the dog. Beyond the initial symptoms of vomiting and diarrhoea, chocolate toxicity can lead to tremors, increased heart rate, heart failure, seizures, and in some cases, can be fatal.
Xylitol – Sugar-free candies and gum can contain large amounts of the artificial sweetener Xylitol.  Xylitol is highly toxic to some dogs and has been found to cause low blood sugar and liver failure.
Freedom For Your Dog?  Have You Checked Your Fence?
Your dog may spend longer in the garden now, so check your fencing and gates are secure both to prevent your dog escaping and to prevent your dog being stolen.
Perhaps you would prefer a specialist invisible pet fence so you have peace of mind that your beloved pet won't escape.  They get out through open gates, dig their way out under a fence or even climb or jump over it, thereby having the freedom to roam.  Worse still your dog could end up in a road accident.
With a little foresight and planning, spring can be the best time of year for your pet. Go out in the fresh air and enjoy the freedom of spring!
https://dogfence.co.uk/wp-content/uploads/2019/02/freedom-fence-springtime.jpg
240
370
Sam Chapman
https://www.dogfence.co.uk/wp-content/uploads/2015/10/dogfences_logo_main_cats_orange2.png
Sam Chapman
2019-02-15 10:49:17
2019-04-17 10:09:28
How To Keep Your Dog's Freedom Safe This Spring