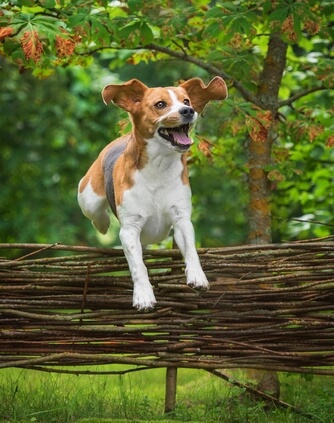 Affordable dog fencing
When it comes to affordable dog fencing there aren't many options as fencing is actually quite expensive.  As with everything you get what you pay for and it depends on whether you want to get your hands dirty. Naturally, these fencing options are based on how large an area you need to fence. The landscape that you need to fence. And also the breed of the dog that requires the dog fencing!
Dog fencing for small areas
If you are looking to fence a small back garden then it is likely that you already have a fence or wall but it isn't meeting your needs. Watch your dog and see if he is using something to climb up and scrabble over or is he climbing or digging. Consider installing trellis above your fence. This can be bought from any good DIY store and is relatively quick to install. If you have a digger add a concrete footer below your fence by pouring concrete along the edge of the fence and sinking the bottom of the fence into the concrete before it dries.  This is naturally a labour intensive job but should do the trick!
If you are not sure where he is getting out then one of our DIY dog fences is going to be the cheapest way forward. These fences are under £250.00 and will cover a small urban garden. If you compare the price of re-fencing a complete rear garden versus adding an electronic dog fence the dog fence will win on price all day long!
For small gardens with low fences, you may be able to upgrade your fence to a close board fence. These fences start at around £38.00 per metre fully installed. You will need to check that you can install a fence of this height before ripping out the old fence.
Rural gardens and small paddocks
It goes without saying that dog fencing for rural areas can be a headache. Not only are you trying to stop your dog going out but the local wildlife is busy pushing its way in. If you have an issue with rabbits and small dogs then this could be a good option for you but it is not the cheapest! Rabbit fencing starts at approx £130.00 per 50m without installation! If you are covering a 1-acre site this will cost in the region of £690.00 just for the galvanised mesh without any posts of labour. Also unless it is extremely well-installed rabbit fencing can be damaged by larger mammals such as Badgers, Muntjack and larger Deer.
If you have hedges or areas with no existing fences then the cheapest form of fencing will be either a stock fence or an electronic dog fence. If you have horses or livestock then you will need to look at stock fencing options. Of course, if it is only a dog or a cat that needs containing then an electronic dog fence is by far the cheapest option.
Our DIY dog fence can be expanded up to an acre for an additional £100.00 and a Professionally Installed dog fence will cost in the region of £1000.00 depending on the location and number of dogs. This would work out more cost-effective than the galvanized or stock fencing and would also protect the driveways. Installing gates can also be very costly and of course, this relies on people shutting the gate when they come or go! Our Professionally installed fences have a lifetime warranty on the hardware and a containment promise for the dog.
Large estates and difficult terrains
If it aesthetics then Estate fencing is most certainly the winner but you will need deep pockets to install this timeless classic! At around £80.00 per 2m panel + installation, it will very soon add up, especially on the large country estate! Again, you will need to think about gates and this type of fencing is not dog secure. Other popular types of fencing are post and rail with stock fencing below or chain link fencing. Chain link fencing is probably the cheapest starting from around £2500 for 1 acre + installation. Whereas if you are looking at fencing 10 acres using our Performance Series on a 10-acre site the cost would be circa £1800.00 including installation & training.
Riverbanks and Undulating Terrain
If your property goes down to the river you may be able to install a small picket fence. These will not stop all dogs as they tend to only be a 90 cm – 100cm high. Prices for Picket fencing start at around £12.00 per metre plus installation.  Alternatively, you can use our dog fence to run along the boundary. This will keep your dog out of the river without disrupting the view. If you have very undulating terrain then you will probably need to install a stock fence but there would be a hefty surge-charge to install this! Again, an invisible fence can be installed for a fraction of the cost.  The trencher used to install the invisible dog fence is extremely adaptable and be operated in both steep and undulating terrain. Images of the dog fence trencher can be seen on our installation & training page.
Dog Fencing price summary
Based on an acre (and excluding gates)
Electronic dog fence (1 dog fully installed – covers gateways as well) – from £3.50 per metre installed.
Stock Fencing (no gates) – from £7.00 per metre installed
Rabbit Fencing (no gates) – from £8.00 per metre installed
Stock Fencing with post and rail (no gates) – from £12.00 per metre
Picket fencing (no gate) – from £20.00 per metre
Close board fence (no gate) – from £35.00 per metre installed
Estate fencing (no gate) from £40.00 per metre installed
Prices have been based on submissions from Companies in Berkshire (2019). Prices are based on properties in the local area and are a guide.
If you have been searching for dog fencing options then read our testimonials on our Trust Pilot reviews. If you would like more information or prices call us today on 03450 623623 or complete our quote form.
https://dogfence.co.uk/wp-content/uploads/2019/10/beagle-jumping-over-fence.jpg
500
334
Sam Chapman
https://www.dogfence.co.uk/wp-content/uploads/2015/10/dogfences_logo_main_cats_orange2.png
Sam Chapman
2019-10-31 12:07:38
2019-11-05 10:28:20
Affordable dog fencing - what are the options?