Indoor Dog Fence – The Solution To Stair Gates
An indoor dog fence for a dog in your home is essential. Owning a puppy, creates the need of having some way to contain your pet.  This can be for safety or you may simply want some indoor area's, to be a no go zone!
Like parents with children, the use of stair-gates or playpens are fine when a dog is a pup.  Of course dogs grow and even a small breed dog will scratch.  Damaging the gate, the door frame and can completely pull the gate away and escape.  A dog escaping a gate can lead to injury to claws, paws or worse if the gate falls.  A larger dog can simply jump over it and go where they please.
The Solution to Stair Gates.
Dogfence Ltd crafted a solution based product to combat exterior issues with a pet containment system which works within the confines of your garden/land. The indoor dog fence system, which can be used as a standalone system, or to compliment your outdoor dog fence.
How The Indoor Fence Works
Sharing your home with a dog, does not mean you want them to have access to every room.   A babies room, upstairs or where you have items you do not want broken or chewed.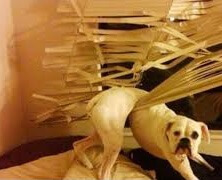 The Indoor invisible fence is the solution you need!
If you have used a stair gate across the staircase or doorways, you will likely recall tripping over them.  Struggling with your hands full to open or even pass through the gate.  Not to mention the damage to paintwork on the door frame when the gate is knocked off or the frame by members of the household.  What about when your pet tries to get through?   Simply shutting a door can result in damage to the door, frame and flooring by your pet.  A gated solution can become costly.
The indoor dog fence system works in very much the same way, as the outdoor fence.  The collar gives an audible beep, followed by an impulse when the boundary is neared.  Our training methods ensure your pet, rarely, sets their collar off.
There are a different indoor dog fence options.  The Indoor Fence IB200 or BOB (Battery Operated Boundary), which can be moved from room to room.  We offer a bespoke solution for our indoor fencing service.  Take a look at our indoor dog fence page for further information or get in touch to speak to our team and discuss a solution for your indoor pet containment needs.
https://dogfence.co.uk/wp-content/uploads/2019/08/animal-welfare-1116205_1920.jpg
1357
1920
Sam Chapman
https://www.dogfence.co.uk/wp-content/uploads/2015/10/dogfences_logo_main_cats_orange2.png
Sam Chapman
2019-09-25 12:06:31
2019-09-30 10:57:21
Indoor Dog Fence - The Solution To Stair Gates