Many people don't let their dogs in on the fun because they're worried about the heat and more.  There is Good news!  Your four-legged friend can enjoy the great outdoors if you follow these key tips for keeping dogs cool and safe.
Keep Your Dog Hydrated
Keeping dogs cool in summer requires having plenty of water on hand. One of the easiest ways to keep your dog cool and hydrated is to carry a portable, collapsible water bowl and bottles of cold water when you go out.  Make sure your dog drinks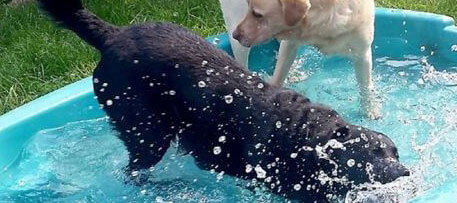 water every hour. If your dog starts panting excessively, get him into the shade and offer more water right away.
Get your dog wet
One way to keep your dog cool during outdoor gatherings is to allow him to swim or do other water play activities.  Always check out a venue ahead of time to determine what water options are available for your dog.  It's also a good idea to bring a few old towels along to dry your dog after play.
Keep your dog out of the midday heat
Avoid exercising with your dog on those hotter days, and if you must, at least avoid the midday hours or anytime it seems too hot for yourself. When going for a walk, avoid hot asphalt that can burn your pet's paws, keep running to a minimum, and bring plenty of cold water to hydrate and cool your dog.
Keep your dog out of a parked car
With all the tragic stories in the news, this should go without saying — but you should never ever leave your dog in a parked car, not even for a moment. According to The Centers for Disease Control and Prevention, "Cars parked in direct sunlight can reach internal temperatures up to 131°F-172°F when it's 80°F-100°F outside." Even with the windows cracked, temperatures rise quickly – hot enough to cause irreversible organ damage or even death.
Keep your dog out of the dog house
Dog houses aren't safe in hot weather, because they block air flow and trap the heat inside. If your pet is outside, be sure to keep him or her in the shade when possible, with plenty of water on hand. You can add ice to their water bowl if it's especially hot to help keep your dog cool when he's outside.
Know the signs of heatstroke in dogs and what to do
Heatstroke is a serious hazard for dogs on hot days, especially those who are very young or old, or not in good health. Watch for the following signs of heatstroke in your dog:
Excessive panting and salivating
Obvious discomfort
Vomiting and diarrhoea
Disorientation
Seizures
If you see any of these signs in your dog, move him or her into a cooler environment right away and call your vet. You can use ice packs and give your pet some cool water to alleviate the condition until you get to the vets.
Many of the complications from heatstroke do not begin to appear until several days after the incident — but prompt veterinary care can potentially prevent or treat some of these complications.
So, when you and your four-legged best friend head out this summer, remember these important tips for keeping dogs cool outside.   If your dog tends to escape the garden you cannot ensure they are cool when out adventuring without you, it is ideal to invest in an invisible fence system when a static fence does not suffice.
https://dogfence.co.uk/wp-content/uploads/2019/06/keeping_dogs_cool_invisible_fence.jpg
203
457
Sam Chapman
https://www.dogfence.co.uk/wp-content/uploads/2015/10/dogfences_logo_main_cats_orange2.png
Sam Chapman
2019-06-28 08:07:27
2019-08-07 09:46:00
Keep Your Dog Cool This Summer