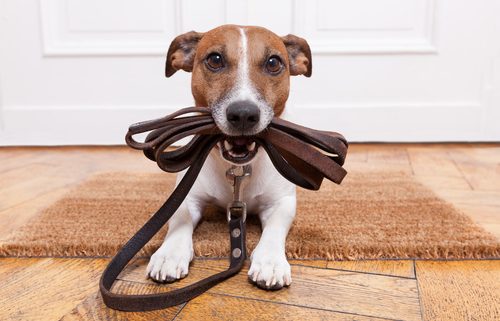 How do I take my dog for a walk if I use a dog fence?
After you have had your dog fence installation one of the most common questions we get asked at DogFence is "how do I take the dog for a walk?".
It's actually really simple. The DogFence installer will have trained your dog or cat to stay within the dog fence boundary.  This is a reverse training protocol and usually takes the dog approx 7 – 10 days to feel fully comfortable with leaving the property.
There are 2 main points to observe:
Never allow your dog to cross the boundary unless he has contact with you. This could be with the lead or by carrying him or simply having a hand on his shoulder.
Never allow your dog to cross the boundary with his fence collar on – even with the system turned off.
To cross the boundary:
Remove the dog fence collar and put it in a safe place. Do not turn off the fence.
Pop him on his lead and walk him up to the exit.
Ask him to sit or stop him before the boundary line (only for the first week).
Give the command to walk and walk slowly out of the property.
Give him praise when you have crossed the boundary.
Repeat the process when you re-enter the property.
The best way to see how it works is to watch the lovely Lionel demonstrating how it's done:
When we install a dog fence for you we will run through how to take your dog for a walk after. As with any new training, it may take your dog a few days to adjust to going out for a walk. If you would like to learn more about how we can give your dog freedom in the garden check why not call us today on 01628 476475?
https://dogfence.co.uk/wp-content/uploads/2019/02/shutterstock_164733143-2.jpg
334
500
Sam Chapman
https://www.dogfence.co.uk/wp-content/uploads/2015/10/dogfences_logo_main_cats_orange2.png
Sam Chapman
2019-02-04 13:24:25
2019-08-28 13:39:12
How do I take my dog for walk if I use a dog fence?