Vet warns dog owners of the risks of adder bites in warmer weather after a family dog was left fighting for his life.
Five-year-old field spaniel, is believed to have been bitten by an adder while sniffing out sand dunes in North Wales and spent almost two weeks fighting for his life at a Veterinary Hospital in Hartford.  You cannot contain your pet when out walking, especially if they are off the lead.
The venom was so toxic, it caused the skin on the abdomen to blacken, die and peel off while causing severe damage to his liver, leaving vets extremely concerned.
Veterinary surgeon, said, "Obviously, these things are very difficult to predict. It's more about getting the message out there that it is a risk and to follow the necessary advice. Snakes are more common in some places than others, and tall grassland is a particular risk. It's definitely something to bear in mind if you have a wandering dog.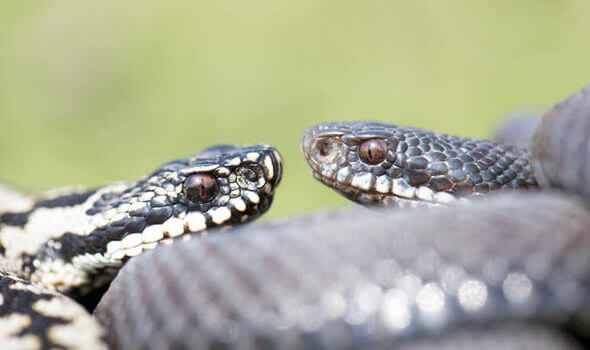 "The majority of bitten dogs make a full recovery with appropriate treatment. However, this dog was really, really poorly when he came to us and it is only through extensive supportive liver medications, broad spectrum antibiotics and fluid therapy that he came through.
"We've not seen a case as severe as this before and we believe the dog had multiple bites."
The dogs owners, were on holiday in North Wales when their pooch was suspected of being bitten while investigating a recently strimmed area of grassland close to the sand dunes. Although he continued to play and fetch his ball normally, he became lethargic when they returned home and later developed soreness and pain on his left side.
The couple sought veterinary advice on holiday and it was suspected their dog had pulled a muscle but his condition gradually deteriorated and they were forced to return to their home early.
"We were told we were not out of the woods, even with his liver enzyme levels started to come down. It really was touch and go."
"Quite a number of people who are dog owners have no idea this can happen. Of course we don't want to scare people but if there's any chance a dog has been bitten you need to know what to do quickly because the symptoms might not show for one to three hours.
The dog had started to develop bruising around his groin area when he returned home from North Wales. "his bloods and his liver enzymes were through the roof."
Snake bites in dogs are uncommon in the UK but they can occur, particularly in spring and summer and interestingly between 3pm and 4pm in the afternoon when the adders are most active.
You can identify an adder as a greyish snake, with a dark and very distinct zig-zag pattern down its back, and a red eye. Males tend to be more silvery-grey in colour, while females are more light or reddish-brown.
The message is, if you notice anything unusual, take your dog to a vet immediately. It's better to err on the side of caution.
There are so many dangers out there for your pet, especially one who has escaped and is roaming unsupervised. As a responsible pet owner, it is important to ensure your pet is contained. Dog Fence provides a pet containment system in the form of a wireless dog fence which works on radio frequency as opposed to electric dog fences and is an effective solution for pet owners with the most cunning of escape artist dogs. Get in touch with our friendly team to discuss your needs today!
Please share this post to increase awareness amongst pet owners! Thank you!
https://dogfence.co.uk/wp-content/uploads/2019/07/dog-adder-bite.jpg
350
590
Sam Chapman
https://www.dogfence.co.uk/wp-content/uploads/2015/10/dogfences_logo_main_cats_orange2.png
Sam Chapman
2019-07-22 13:29:40
2019-08-07 09:39:49
UK Adder Bites - Dog Owner Warning - Pet Containment Fence