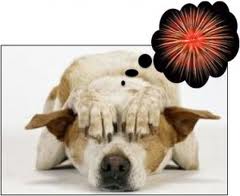 So as Bonfire Night approaches this can be really frightening for our furry friends. Fortunately there are some simple things that you can do to make the experience as stress-free as possible for Fido!
* Walk the dog before the fireworks begin (best when it is still light to avoid an unexpected "Bang"). Some pets are too frightened to relieve themselves outside, which may lead to some accidents at home.
* Distract your dog and muffle any outside noise by closing the curtains and putting on the TV.
* If your dog does get scared, although it's the natural thing to do, try to resist comforting them. This tends to reward their fearful behaviour; teaching them that it is the correct response to be scared.
* If your dog is not microchipped; make sure that they are properly identified with your contact details on their collar or install a containment system to prevent them running off.
https://dogfence.co.uk/wp-content/uploads/2015/02/dog-and-firework2.jpg
196
240
Sam Chapman
https://www.dogfence.co.uk/wp-content/uploads/2015/10/dogfences_logo_main_cats_orange2.png
Sam Chapman
2012-11-02 16:57:08
2019-10-11 09:57:15
Remember remember the 5th November (& the weekend before!)