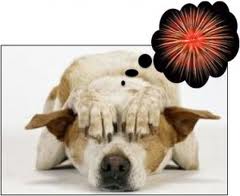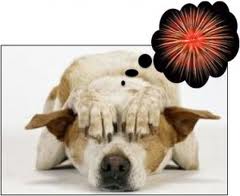 So as Bonfire Night approaches this can be really frightening for our furry friends. Fortunately there are some simple things that you can do to make the experience as stress-free as possible for Fido!
* Walk the dog before the fireworks begin (best when it is still light to avoid an unexpected "Bang"). Some pets are too frightened to relieve themselves outside, which may lead to some accidents at home.
* Distract your dog and muffle any outside noise by closing the curtains and putting on the TV.
* If your dog does get scared, although it's the natural thing to do, try to resist comforting them. This tends to reward their fearful behaviour; teaching them that it is the correct response to be scared.
* If your dog is not microchipped; make sure that they are properly identified with your contact details on their collar or install a containment system to prevent them running off.
https://dogfence.co.uk/wp-content/uploads/2015/02/dog-and-firework2.jpg
196
240
Sam Chapman
https://www.dogfence.co.uk/wp-content/uploads/2015/10/dogfences_logo_main_cats_orange2.png
Sam Chapman
2012-11-02 16:57:08
2019-10-11 09:57:15
Remember remember the 5th November (& the weekend before!)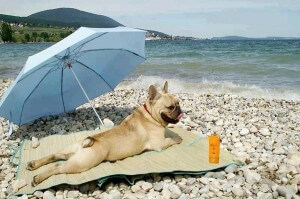 Autumn Beach Walks With Your Children And Dogs
Half term is creeping up on us here in England and those of you with kids and dogs will be thinking about where to go and what to do to keep them all happy.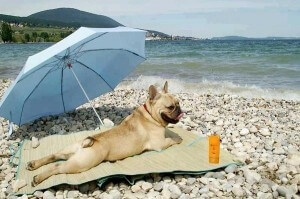 It's easy finding a spot where the children can roam free but not so easy finding one where the family dog can join in the fun so we thought we'd give you a quick recap of the beaches in the United Kingdom that allow dogs to run free.
 Norfolk
Holkham beach has four miles of sand where dogs and families can enjoy an Autumnal picnic and a bit of late Summer surf.  There are beach huts just in case that nip in the air is a bit too fresh otherwise you can huddle up behind one of the many wooden dividers and wrap your wind breakers around you as you break open the flask of hot chocolate! This beach is backed by Holkham National Nature Reserve so you can prolong the day.
East Sussex
Camber Sands is a firm favourite for all dog owners and families as the dunes are far reaching and provide shelter. There are great rock pools here to explore and some odd looking wildlife like the sea splurge and the brown tailed caterpillar!
There's great accommodation in Camber Sands that comes highly recommended for a half term break or just a quick weekend away.
Camber sands is a known doggy paradise and there are dog zones and a good amount of waste bins too!
Hampshire
Lepe beach is perfect for children and dogs to romp around with plenty of room and grassy areas, a mile of sand, pine edged cliffs and meadows full of wild flowers with views of the Isle of Wight!
It was here that many troops landed during D Day which is another heroic and heart warming story to tell your children in between foraging and beach combing.   Little ones will love the children's play area and there are toilets and lots of parking!
West Cumbria
St Bees beaches are both sandy and stoney and have great facilities like wheelchair access and toilets!
St Bees is the beginning of the Wainwright's Coast to Coast walk and there's a good nature reserve close by too where you need to keep the dog on a leash but further down there's a mile long beach just great for dog walking and a bit of fetch!
Kent
We'd recommend Whitstable which is pebbly but the village it borders is just chocolate box pretty and full of those olde worlde wooden houses and little quaint shops that even sell oysters!
There is a sharp drop to the sea so make sure your dog can swim well.
 Yorkshire
There is almost a mile of sandy beach at Danes Dyck just on the south side of Flamborough Headland giving you loads of room to let the dogs run free and take the children with them!
Picnics are great here as you have the white cliffs behind you on both sides of the headland and the actual sand stretches, gently sloping, far from the ocean so you don't even have to get your toes wet.
Devon
Branscombe beach is found at the end of a down and is a shingle and pebble beach. The beach is close to many of the popular tourist destinations such as Beer and Seaton so there's plenty to do when you're not letting your canine friend run free. The beach includes toilet and refreshment facilities, as well as a magnificent cliff top walk..
Dorset
Durdle Door beach is one you will easily recognise as it is probably one of the most  famous and photographed beaches in England and is very popular with dog walkers. The sandy beach curves around the cliffs towards the natural arch formed in the cliffs by the waves over thousands of years. Lulworth and Lulworth Cove are close by and access is from the car park at the Durdle Door Holiday Park.
Cornwall
Mawgan Porth beach offers a good change to the very popular and often crowded beaches of Newquay and Watergate Bay. You will probably only  share the beach with a few surfers depending on the weather!  The beach does tend to mostly disappear during the evenings when the tide is in, so this might be a good beach to combine with the nearby South West Coastal Path for a longer walk. However for pure peace and tranquility, it's hard to beat.
https://dogfence.co.uk/wp-content/uploads/2015/02/dog-on-beach-image2.jpg
199
300
Sam Chapman
https://www.dogfence.co.uk/wp-content/uploads/2015/10/dogfences_logo_main_cats_orange2.png
Sam Chapman
2012-10-15 16:44:44
2019-10-11 09:58:18
Autumn Dog Walks with Children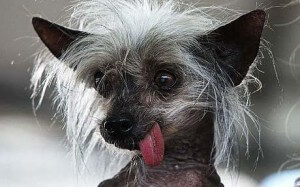 "Ugly" dog breeds are increasing in popularity as owners look for pets which provoke a strong reaction, new figures show.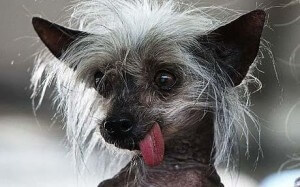 Miss Ellie, a Chinese Crested Hairless dog, won the World's Ugliest Dog Contest last year Photo: Getty Images
Growing numbers of Britons are shunning traditional breeds in favour of the less obvious charms of animals which even their staunchest supporters might concede are not blessed in the looks department.
The surprising surge in popularity of a series of "ugly" or unconventional-looking dog breeds is revealed in statistics from the Kennel Club on the numbers of pedigree puppies born in the last decade.
Among the fastest risers were the Mexican hairless and Chinese crested, both of which are largely bald with wizened features, the Cirneco Dell'Etna and Pharaoh Hound, distinguished by their oversized bat-like ears, and the wrinkled-faced dogue de Bordeaux, owned by Frank Lampard and Wayne Rooney, the England footballers.
Between these five breeds, 3,452 puppies were born in 2010, compared with just 990 in 2001.
Meanwhile, many traditional breeds are plummeting in numbers, among them the Yorkshire terrier (down 32 per cent since 2001 to 3,441 puppies in 2010), and West Highland White terrier, (down 51 per cent to 5,361), German shepherd (down 27 per cent to 10,364) and golden retriever (down 20 per cent to 7,911).
https://dogfence.co.uk/wp-content/uploads/2012/01/Ugly-dog-300x187.jpg
187
300
Sam Chapman
https://www.dogfence.co.uk/wp-content/uploads/2015/10/dogfences_logo_main_cats_orange2.png
Sam Chapman
2012-01-25 16:37:27
2019-10-11 09:59:06
Owners opt for 'ugly' breeds of dog