Spring has sprung, and with the change of season, our thoughts inevitably turn to Easter celebrations, spring cleaning and much-needed home improvement projects. But the new spring weather can prove not-so-sunny for curious pets—or their unwitting owners. Before you embark on Spring cleaning or gardening, take heed of potential springtime hazards for your furry friend. Below are some of the potential hazards:-
Easter Treats and Decorations Keep Easter lilies and chocolate bunnies in check—chocolate goodies are toxic to cats, dogs and ferrets, and lilies can be fatal if ingested by our furry friends. And be mindful, kittens love to nibble on colorful plastic grass, which can lead to an obstructed digestive tract, severe vomiting and dehydration.
Buckle Up!
While every pet parent knows dogs love to feel the wind on their furry faces, allowing them to ride in the bed of pick-up trucks or stick their heads out of moving-car windows is dangerous. Flying debris and insects can cause inner ear or eye injuries and lung infections, and abrupt stops or turns can cause major injury, or worse! Pets in cars should always be secured in a crate or wearing a seatbelt harness designed especially for them.
Spring Cleaning
Spring cleaning is a time-honored tradition in many households, but be sure to keep all cleaners and chemicals out of your pets' way! Almost all commercially sold cleaning products contain chemicals that are harmful to pets.
Home Improvement
Products such as paints, mineral spirits and solvents can be toxic to your pets and cause severe irritation or chemical burns. Carefully read all labels to see if the product is safe to use around your furry friends. Also, be cautious of physical hazards, including nails, staples, insulation, blades and power tools. It may be wise to confine your dog or cat to a designated pet-friendly room during home improvement projects.
Let Your Garden Grow—With Care
Pet parents, take care—fertilizers, insecticides and herbicides keep our plants and lawns healthy and green, but their ingredients aren't meant for four-legged consumption and can be fatal if your pet ingests them.  Always store these poisonous products in out-of-the-way places and follow label instructions carefully.
Poisonous Plants
Time to let your garden grow! But beware, many popular springtime plants—including Easter lilies, daffodiles and azaleas—are highly toxic to pets and can easily prove fatal if eaten. Check out this excellent full list—and pics!—of toxic and non-toxic plants for your home and garden.
Ah-Ah-Achoo!
Like their sneezy human counterparts, pets can be allergic to foods, dust, plants and pollens. Allergic reactions in dogs and cats can cause minor sniffling and sneezing as well as life-threatening anaphylactic shock. If you suspect your pet has a springtime allergy, please visit your veterinarian as soon as possible.
Out and About
Warmer weather means more trips to the park, longer walks and more chances for your pet to wander off! Make sure your dog or cat has a microchip for identification and wears a tag imprinted with your home address, mobile phone and any other relevant contact information.
https://www.dogfence.co.uk/wp-content/uploads/2015/10/dogfences_logo_main_cats_orange2.png
0
0
Sam Chapman
https://www.dogfence.co.uk/wp-content/uploads/2015/10/dogfences_logo_main_cats_orange2.png
Sam Chapman
2013-03-04 17:32:06
2019-10-11 09:54:30
Pets in the Spring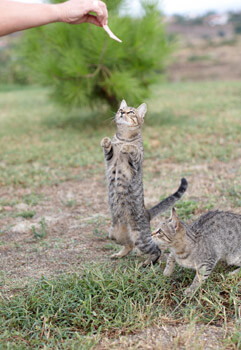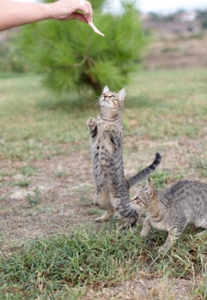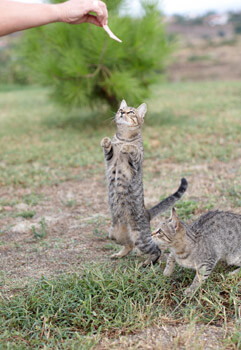 Feeding a cat that is not yours, may not be doing the right thing
Cat owner or cat lover, we are all fond of cats. We appreciate it when they are around, we want to please them and make them happy. And what's better for this purpose than a nice bit of food? But for several reasons, leaving cat food outside your house or feeding the nice cat that is coming to visit is perhaps not as good an idea as it may initially seem.
First, if the cat belongs to someone else, it might eat less at home. This may be interpreted as a loss of appetite by the owner, who then takes the cat to the veterinarian to have it checked over, causing unnecessary stress for both owner and cat. There are also the not inconsiderable financial consequences for the owner, as the vet may do tests because there is nothing obvious to explain this apparent loss of appetite. If the cat doesn't eat less, then there is obviously the risk of obesity as the cat eats more than it needs and starts to put on weight. This not only puts a stress on the heart and the like, but also on the joints, resulting in painful arthritis sooner or later.
Second, if it's not your cat, you won't know if it has a health condition that is being controlled with a special diet. For example the cat could have a dietary sensitivity or diabetes, (which might be linked to obesity) and need to be on a specific diet to avoid problems. Feeding a routine food, may not have an obvious immediate effect, and the cat won't avoid what might be tastier, just because it isn't good for it in the long run. Such a choice could result in delayed complications, such as diarrhoea or a more serious crisis in the case of a condition like diabetes.
Some people like to offer visiting cats raw meat as a treat, after all, cats are strict carnivores, and feeding them with raw meat seems only natural.

Unfortunately, raw meat can carry disease, such as toxoplasmosis. This can be very serious, or may not appear to affect the cat very much (see Toxoplasmosis page here), but the cat can spread it to people including children, where the consequences can be much more serious. Feeding a cat that is not yours might not be the right thing to do, but feeding it raw meat is certainly not the right thing to do.
Finally, another sad potential consequence of feeding is that you may encourage cats to cross roads in order to come to visit and inadvertently increase the risk of them being run over. There are over 300 000 cats killed on the roads in UK each year and we don't always know why they felt the need to cross this particular road. Getting food seems a pretty good reason, after all, many cats cross roads to head for fields where they can hunt.

So, what should we do about cats wandering in the neighbourhood? You should decide to do one or two things: First you should not feed any cat, and so avoid any problems linked to feeding them; next you can try to identify if the cats are owned or cared for? Where do they come from? Do they have to cross any road to come and see you? If they are owned, are they in good health and body condition? All this information and strong community contacts may give you the answers you need to make the right decision, and if it is not-owned, then it is better to take it to a rescue centre, where it can be fully cared for. Cat owners can also take measures to ensure that their cats are not put in "feeding- danger". If they are on a strict diet, they can put a collar with the message "do not feed" on their cat. They can also talk to the neighbours and warn them about their cat's special needs. Alternatively, if it is felt that it is better to keep it indoors, it must have plenty of stimulation and places to explore, so it doesn't get frustrated.

By Dr Naima Kasbaoui and Prof Daniel Mills
University of Lincoln, Animal Behaviour Cognition & Welfare Group.
https://dogfence.co.uk/wp-content/uploads/2015/02/feeding.jpg
350
241
Sam Chapman
https://www.dogfence.co.uk/wp-content/uploads/2015/10/dogfences_logo_main_cats_orange2.png
Sam Chapman
2013-02-25 17:16:30
2019-10-11 09:54:45
The problems with feeding a cat that isn't yours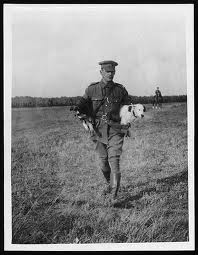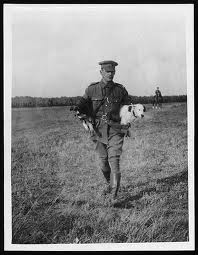 This weekend we be remembering and paying our respect to those who lost their lives  in the two World Wars and other conflicts. During World War I many dogs lost their lives assisting the troops in the trenches.
Dogs had a vital part to play in World War One as the complexes of trenches spread throughout the Western Front. Dogs were used as messengers and proved to be as reliable as soldiers in the dangerous job of running messages.
The complexities of trench warfare meant that communication was always a problem. Field communication systems were crude and there was always the very real possibility that vital messages from the front would never get back to headquarters or vice versa. Human runners were potentially large targets and weighed down by uniforms there was a chance that they would not get through. In the heat of a battle, there was even less of a chance of a runner getting through as the enemy's artillery was likely to be pounding your frontline and the area behind it. Vehicles were also problematic as they could breakdown or the 'roads' could have been reduced to a mushy pulp and travel on them made impossible.
Dogs were the obvious solution to this pressing problem. A trained dog was faster than a human runner, presented less of a target to a sniper and could travel over any terrain. Above all, dogs proved to be extremely reliable if they were well trained. A dog training school was established in Scotland and a recruit from this school traveled over 4000 metres on the Western Front with an important  message to a brigade's headquarters. The dog traveled this distance  (war records classed it as "very difficult" terrain) in less than sixty minutes. All other methods of communicating with the headquarters had failed – but the dog had got through.
Dogs also had another role to play on the Western Front. For men trapped in the horrors of trench warfare, a dog in the trenches (whether a messenger dog or not) was a psychological comfort that took away, if only for a short time, the horrors they lived through. It is said that Adolf Hitler kept a dog with him in the German trenches. For many soldiers on any of the sides that fought in the trenches, a dog must have reminded them of home comforts.
https://dogfence.co.uk/wp-content/uploads/2015/02/world-war-1-dogs.jpg
255
198
Sam Chapman
https://www.dogfence.co.uk/wp-content/uploads/2015/10/dogfences_logo_main_cats_orange2.png
Sam Chapman
2012-11-08 16:54:35
2019-10-11 09:56:52
World War I Dogs