Christmas time is just around the corner and should be enjoyed by every member of the family. Dogs technically don't know what Christmas is but they do know that everyone is excited and there are many new shiny objects that they have never seen before, some of which could cause them harm. Here's our guide to some of the main Christmas dangers to your dog so you can keep them safe this year.
Christmas Food
We all do it, sneaking the dog some turkey under the table. It's a special time of the year and everyone deserves a treat. Unfortunately there is a long list of Christmas foods that are actually poisonous to dogs.  These include: chocolate, onions, nuts, blue cheese, and all forms of grapes (including the raisins and sultanas found in Christmas pudding).
It is also well documented that dogs love to chew on bones. What is not so well documented is that bones become brittle and are more likely to splinter after they have been cooked. This can lead to small fragments being swallowed which can lead to choking. Swallowing the shards can also cause digestive problems later on in the day. Not exactly the present that you were hoping for this Christmas. It should also be noted that poultry/bird bones are hollow and splinter very easily so should never be given to a dog.
Decorations
Christmas decorations are great to look at. Unfortunately they look as good to dogs as they do to us – albeit in less colour! The problem is that dogs cannot differentiate between a bauble and a tennis ball, if it's round and it rolls then it's probably going to be chased.
Baubles aren't really toxic to dogs, but unfortunately they are likely to shatter which means shards of plastic or glass can get stuck in paws or in digestive tracts.
Tinsel is another Christmas favourite, and again another concern for your four legged pal.  Whilst not very toxic, tinsel is long and slinky which means it is easy to chow down on. The main trouble with tinsel is that it can cause a blockage in the digestive tract. The worst case scenario would be if it started to work its way through the body whilst some of it is still in the stomach! This would be a real cause for concern and require an immediate trip to the vet.
Christmas Tree Chocolates
Chocolate tree decorations are fantastic for that Christmas day treat. Unfortunately chocolate is very poisonous to dogs. The trouble is that chocolate can fall off the tree without you noticing, which means it is fair game for any four-legged friends. Chocolate wrappers can also have a bad effect on a dog as it passes through their gut. We strongly suggest taking steps to try and make it as difficult for dogs to reach and eat these treats as possible.
Electrical Goods
Christmas presents normally go hand in hand with electrical goods.  Whilst the idea of watching TV probably doesn't appeal to your canine friend, having something to chew on probably does. Electrical wires are a prime example, especially if they have not been moved well away from doggy accessible places. Your family pet is going to be in for a shock if they manage to chew all the way through the wire.
The same could be said for batteries which are probably going to be in abundance with all the new gadgets and gizmos that Santa brought the family this year. When pierced or ingested, the acid inside can cause severe chemical burns or heavy metal poisoning.
Holly, Mistletoe and Poinsettia
You know you're in the festive season when you see Holly, Mistletoe and Poinsettia decorating peoples homes. Like most other things in your house, your dog probably looks at these plants and see's a snack.
Many people think that Poinsettia is an extremely deadly plant for pets and children, though this is rarely the case. The plants brightly coloured leaves contain a sap which is highly irritating to skin, and will cause abdominal pain when ingested. Other symptoms include: excessive drooling, nausea, and vomiting. If your precious pooch decides to take a bite, it is likely to be too irritated by the plants sap to continue eating. However, you should still take care when displaying this plant if you have a dog in the house.
Holly and Mistletoe are generally more toxic than Poinsettia. Both are known to cause intestinal upset, vomiting, and diarrhoea. Mistletoe contains toxic substances that can do real damage when ingested in large quantities, these symptoms include: massive drop in blood pressure, breathing problems, seizures, and deadly in some very severe cases. We seriously suggest keeping these plants well away from anywhere that you family dog can reach them.
Whilst the above are some very important Christmas doggy dangers to look out for, by staying vigilant and keeping an eye on your pet, you can ensure that everyone in the family has a perfect Christmas this year.
Please note that DogFence does not accept any liability for the content of this page and is only intended as a guide. If you are worried about your pets health, or wish to know more about Christmas dangers to you pet, please contact your local veterinary practice.
https://dogfence.co.uk/wp-content/uploads/2015/11/Fotolia_11163141_Subscription_Monthly_M2.jpg
649
1070
Sam Chapman
https://www.dogfence.co.uk/wp-content/uploads/2015/10/dogfences_logo_main_cats_orange2.png
Sam Chapman
2015-11-20 16:47:31
2019-10-11 10:12:59
Canine Christmas Dangers

Let us set the scene for you.
You've been slow roasting your Christmas turkey all through the night. The smell is truly heavenly wafting through the house like an angel sent to bless you and give you good fortune. You have basted this creation a thousand times to make sure that the taste is perfect for when all 20 of your family members come round today. You even cooked the pigs in blankets with the turkey so that they too would be a dinnertime delight.
Its finally time to take the turkey out of the oven. The smell warms you up like a Christmas fire and your mouth starts to salivate like the family dog sat next to you, longing for a taste of the wonder in front of him. 'DING DONG' goes the bell. The first of your family members has arrived and of course no one else in the house is going to answer the door. You put the Christmas lunch centrepiece on the worktop for what you imagine will only be twenty seconds, but it is more than enough time for a four legged thief to make its move.
CLANG
A sound from the kitchen? You rush to your turkey like a mother to a crying child and find your hopes and dreams for the perfect Christmas lunch dashed to the kitchen floor. The family dog had somehow managed to jump up on the side and steal the turkey for himself. He couldn't help it, he wanted to savour the bird as much as you did! He looks up with a sense of guilt in his eyes as he tucks into the juiciest cut of the bird.
Tears welling up, you remember the advert that you saw online for a DogFence Indoor Boundary System. At the time it didn't seem necessary. Your beloved pet had never needed to be kept away from anything in your house before, so why would you need one now?
Hindsight is a wonderful thing. Make sure your dog doesn't steal Christmas this year.  Get in touch with us on 01628 476475 to find out how to keep your dog away from the Christmas dinner.
https://dogfence.co.uk/wp-content/uploads/2015/11/the-dog-that-stole-christmas1.jpg
738
1416
Sam Chapman
https://www.dogfence.co.uk/wp-content/uploads/2015/10/dogfences_logo_main_cats_orange2.png
Sam Chapman
2015-11-17 10:03:49
2019-10-11 12:10:06
The Dog That Stole Christmas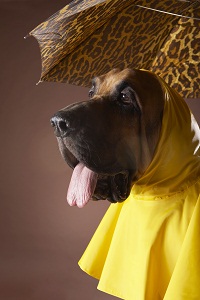 We loved this article By Ralph Greco, Jr.
"Dog Alerts Owner to Bad Weather"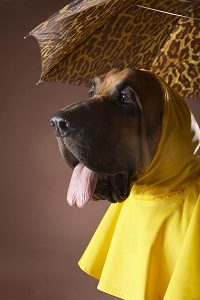 It sounds like a headline from a supermarket tabloid but scientific facts support this seemingly amazing claim — which is not so amazing to those of us who own dogs. So many of us have experienced our furry companions barking well before we hear thunder, or have come to enjoy the old head-in-our-lap cuddle just before rain pelts our house.
How often do we find our dogs jumping for joy just about the time we hear our weatherman warning of an imminent snowstorm? We've all heard those not-so-tall tales of a family's dog barking so loudly that they alert everyone to danger well before a tornado is even detected. The connection between imminent weather changes and our dogs knowing about them before we do, and often times their trying to tell us about them, is something so many of us have experienced or heard about that we seldom actually question this simple fact of doggy derring-do.
It's less a canine "sixth sense" though, than it is a case of simple science.
A dog is more sensitive to the drop in barometric pressure and the shift in the static electric field that comes prior to climate changes. With severe weather imminent, like the often quick turn-about a tornado brings, or the severe conditions in the wake of an approaching hurricane, a dog will not only feel those acute changes in electricity and air pressure — all that much more acute in severe weather — but beyond warning their households, they have been known to seek shelter themselves.
Have you ever stepped out of your house, taken a hearty inhale and said, "Mmm, it certainly smells like rain?" Well, if you can sniff out that scent, your dog can too — their noses can detect concentrations of chemicals we couldn't even imagine. When it comes to the smell of ozone in the air attributed to lightning, rest assured your pooch will smell it before you do!
And what about far-off thunder? Canine hearing is close to twenty times more sensitive than ours. Those rumbles we might not even hear until they are upon us as full-blown thunder are sounds and vibrations your dog will certainly hear or feel well before you This is why all that rattling really disturbs some dogs when it finally arrives in full fury.
Our dog's senses are that much more sensitive than ours, so is it any wonder that they can detect the nuances of weather changes better than we ever could? If we can learn to recognize and interpret specific behaviors our dogs are instinctively revealing before those weather changes are upon us, we might learn to figure out what is literally "on the horizon."
Although other animals, from cats to birds to turtles, are known to exhibit behavior related to anticipating storms or changes in the weather, researchers theorize that, because of the way dogs learn, the more often they are exposed to weather changes, the more they will learn to anticipate those changes — and then the changes that come before those, and so on, until they have learned to associate the tiniest of changes with what they have experienced before… and then will surely want to "tell" us about them.
Ultimately, we might be better off enjoying a good warm furry cuddle or heeding that loud consistent barking over watching the Weather Channel.
Does your dog warn you of impending changes in the weather, incoming tornadoes, or earthquakes? Tell us about your experiences in the comments!
https://dogfence.co.uk/wp-content/uploads/2015/02/Is-Bad-Weather-Coming-Ask-Your-Dog.jpg
300
200
Sam Chapman
https://www.dogfence.co.uk/wp-content/uploads/2015/10/dogfences_logo_main_cats_orange2.png
Sam Chapman
2013-03-27 17:24:41
2019-10-11 09:54:11
Can dogs predict the weather?