BigLeash® V-10 Vibration Trainer
Dogs are happiest when they knows they are pleasing you. Help them figure it out by communicating more clearly with a BigLeash® Vibration Trainer.
---
Overview
A Vibration Trainer is a type of Remote Trainer, also known as an e-collar (or electronic collar). The BigLeash® V-10 lets you send a vibration signal from a handheld transmitter to a receiver collar worn by your dog. The signal gets the dog's attention and can be used to teach and reinforce training commands and to change undesirable behaviours.
The BigLeash V-10 Vibration Trainer offers 10 vibration levels plus an audible signal that can be used for training and communicating with your dog, especially when they are too distracted or too far away to hear your verbal command. The vibration signal is safe and effective and is especially good for dogs that are sensitive or hearing impaired. It is the only e-collar with digital FM technology and exclusive 'In-Touch'™ two-way communication between the hand-held transmitter and the dog's receiver collar.
| | |
| --- | --- |
| LCD Display | The LCD display on the BigLeash Vibration Trainer gives you more information than any other e-collar. All the information you need is available at-a-glance, keeping you fully informed of the transmitter and receiver status, battery status, training level and your dog's distance from the transmitter. |
| In-Touch™ Two-Way Communication | The BigLeash is the only e-collar with two-way communication between the hand-held transmitter and the dog's receiver collar. This important feature helps you stay safely connected with your dog via the signal strength indicator on the LCD screen that shows you if your dog is going out of range – so you can call him or her back before it's too late. |
| 10 Levels of Vibration | 10 adjustable levels of vibration accommodate a wide variety of needs and pet personalities. |
| 2 Signal Options | Includes adjustable vibration levels plus an audible signal option. |
| Firefly® Nightlights | Easily activated from the hand-held transmitter, the 4 LED lights are great for walking your dog at night or locating him or her in the dark. |
| ½ Mile Range | The signal range is up to ½ mile – more than enough to give your dog some room to roam when you go out for off-the-lead walks. |
| Two Dog Ready | Easily add a second collar so you can train or manage two dogs with the same hand-held transmitter, storing separate settings for each dog. |
| Rechargeable Batteries | Both the hand-held transmitter and the receiver collar have a long-lasting, easy-to-recharge battery. |
| Low Battery Indicator | Both the hand-held transmitter and the receiver collar have a low battery indicator to let you know when it is time to recharge. |
| Lightweight, Waterproof Receiver | Because dogs will be dogs. |
| Weatherproof Transmitter | Because weather happens. |
| Soft-Touch Coating | A unique coating that provides a comfortable and secure grip, while protecting the hand-held transmitter. |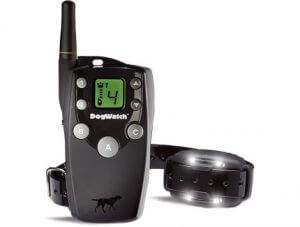 Includes
Y-cord (so both units may be charged at the same time)