About DogWatch® Hidden Fences
DogWatch® Hidden Fences are designed to keep your pet safe.
A DogWatch hidden fence will give your pets freedom while keeping them happy and safe in their own garden. You can also use a hidden fence to designate areas that are "off-limits" such as flowerbeds, a gated driveway, kids play area, swimming pool, or a BBQ area.
It also gives great peace-of-mind to you, the loving owner. You will be able to rest assured that your pet is safe.  No more worrying about them running off or getting into the road. With a Dogwatch system, you get all the benefits of leaving them to roam without the worry.
We have solutions for all types and sizes of areas, from a small garden or yard, right up to a 200 acre estate.  There are also very few places where we can't install a Dogfence.  We can go under pathways and patios, or even over rivers and through woods!
Works Well for Cat Containment, Too!
Our DogWatch hidden fence system works well as a cat fence, too.
But what if you have a dog and a cat?
No problem. You can use a DogWatch hidden fence as a cat fence and a dog fence at the same time.
And if you have several dogs and cats?
No problem. Our hidden fence systems can handle multiple pets. And since no two pets are alike, the collar settings can be individually adjusted to suit the breed, size, age and temperament of each dog and/or cat on the system.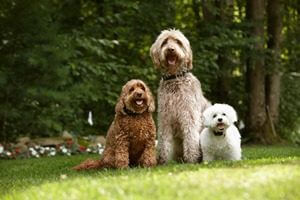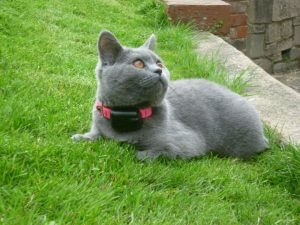 The DogWatch® Transmitter
The transmitter controls the coded FM radio signal in the buried wire, providing fast, clear, signals. In addition to being the only FM transmitter available for hidden fences, the DogWatch transmitter is fully adjustable by the end-user to suit your needs. You won't find anything quite like it in other brands. Learn more about the features of the Dogwatch system.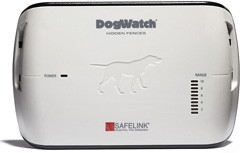 Lightweight Receiver Collars
DogWatch receivers are the smallest & lightest available worldwide. Our compact Micro receivers in the R12m and R7m weigh in at only 30g and offer a 6 month battery life which is longer than other brands but when it comes to the R12 & R9 DogWatch offer up to a 2 year battery life in a compact and durable lightweight case (48g).
Every receiver has 3 omni directional antenna (x, y & z axis) to guarantee that the receiver collar will activate at any angle. Every receiver is individually constructed and tested by hand to ensure consistency and quality.
All our receivers are warranted against dog chews and our professionally installed systems also come with a lifetime warranty.